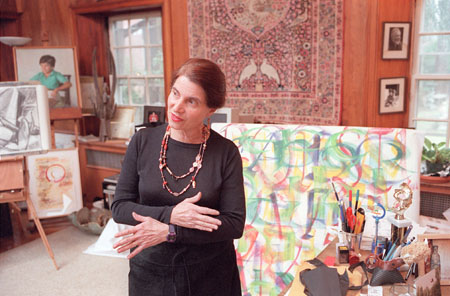 Photo by Kris Snibbe

"Walk around and look at everything. Touch things and move things and whatever." Kitty Pechet wants visitors to her studio to experience the artwork to the fullest. There's a lot to see. Colorful horses canter across a canvas at one end of the huge, bright space and a wash of monochromatic waves is frozen, unfinished on paper, at the other. Many styles and sizes of calligraphy, works in oil, ink, and pastels cover the walls from wide pine floor to sky-lit ceiling. Obstructing a passage from the studio into an adjoining room leans an item that, but for it's brightly painted floral design, appears out of place. What is this petite Cambridge calligrapher who teaches art at Harvard Neighbors doing with a giant surfboard looming over the works in her art studio? Spend a few minutes and Pechet is happy to tell about how the wife of the Senior Tutor of Lowell House in 1960 learned how to "hang ten" in 1990. In this excerpt from a talk she gave at morning prayers at the Memorial Church last month, Pechet explains how she got "onboard" for the first time at the unlikely age of 50.
"I was introduced to surfing by my 9-year-old son, who wanted to ride a board. He was a coordinated kid, and he was promptly picked up for competition. I was designated driver. One day, as I watched from the beach, a lady came up to me. 'You know, there's a women's division. Why don't you go in?' It was so hot on that beach, I agreed. For 15 minutes, Janice showed me how to tummy in on the whitewater. To be polite, I followed her into the contest, and I beat her! I'd never won anything in my life. I was psyched."
Pechet has been riding the waves ever since (and her surfing son graduated from Harvard in 2000). Her Memorial Church talk concluded with a description of a birthday trip made to the Rhode Island coast following one of the recent January snowstorms. Needless to say it was freezing outside, but Pechet's urge to head to the beach was strong as ever.
"I went into the sea. The cold seeped up my legs, but all was forgotten in the rush of the first wave. I caught it, pushed up, and fell off. Paddled back out. I fell off again. And again. I kept paddling back out. Just one more, one more try. I was getting tired. I began to get cold. I sat out there, resting, astride my board, energized by the white light.
"Suddenly my wave came. I paddled hard, it caught me, and we went together. There I was, skimming the foam, held between the heavenly blue bowl above and the great bowl of sea, sand and earth below. I was on one of the great joy rides of my life. Through the iced salt on my lashes, I could see the horizon, the beach, the rocks and sky, and I was one with this glittering universe. Weightless, I passed through a world where there was no sound, no space, no time. As I rode the hush of bubbles, I was carried in facets of white light. The light was a blessing. I hope that, wherever your waves in life take you, you feel warm in the blessing of the light."
An exhibit of Pechet's work can be seen at the Harvard Neighbors Gallery from May 1 to June 7.
We serve the public interest! Interesting people, interesting jobs, interesting hobbies – we want them in the Big Picture. If you have an idea for the Big Picture, give us a buzz at our new e-mail address: big_picture@harvard.edu