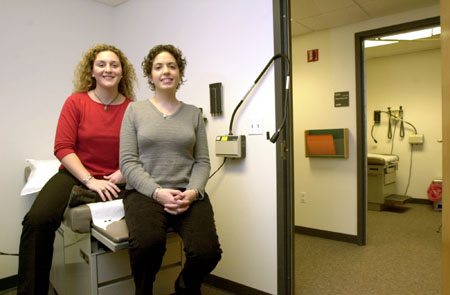 Every time Harvard sophomore Sandra Nudelman sees her grandfather, she is thankful for the 19-year-old nursing student whose donated liver saved his life.
Her grandfather, Norman Rudow, waited from late 1992 to early 1994 for a donor liver to become available as disease slowly ate away at his own. Nudelman said she watched him get progressively sicker and felt frustrated, as the wait grew longer.
"It's really hard because you see your grandfather getting very sick and nothing is being done to help him," Nudelman said. "It's a lot of drama, a lot of roller coaster and up and down [emotions]."
The experience inspired her to join with two other Harvard undergraduates, Cristina Weiner '02 and Joanna Chan '02, to form an organization to work on the problem. The group, called Youth for Organ Donation Awareness, is working to raise awareness among college and high school students of both the need for donated organs and the importance of considering the issue and deciding for yourself whether to become a donor.
"You can donate tissue, tendons, long bones, skin, cornea," said Weiner, who is co-president of the organization with Nudelman. Weiner became active in organ donation after her twin brother, Matt, died while playing basketball in 1999. Weiner said she knew her brother's wishes because the two had gotten their driver's licenses together and had talked about what they would want should the time come.
"Matt's donations have helped over 50 people so far," Weiner said. "There is good that can come out of it. It's something we all feel very good about."
The need for increased awareness is critical, according to Sean Fitzpatrick, director of public education for the New England Organ Bank. Each day, 16 people die out of the 76,000 waiting for organs nationally.
"It's not lack of technology or lack of access to the system," Fitzpatrick said. "These people die because of a shortage of organs."
It is critical that people not only think about whether they want to donate their organs but also talk with family members about it, Fitzpatrick said. That way, should tragedy strike, bereaved family members won't be forced to make what can be a difficult decision in the hospital. Instead, they will know they are carrying out their loved one's wishes.
"Usually the family's objection is they don't know the wishes of the deceased. And the default position is 'no,'" Fitzpatrick said. "For every family that says no, people die. So it's important to get the family used to the idea before it happens."
Relying on wallet cards or designations on driver's licenses is also unreliable, because wallets and identifying cards get lost or held as evidence in an accident. That leaves hospital personnel and family members without an indication of their loved one's wishes.
Youth for Organ Donation Awareness is reaching an especially critical audience, Fitzpatrick said, because young people make up a large number of organ donors. That is because young people tend to die more often in circumstances that would leave the organs healthy enough to be donated, such as in accidents with head trauma.
Harvard students are involved in many charitable and volunteer efforts, but Weiner and Nudelman appear to have hit on an area that has seen little student activism over the years, according to Judith Kidd, assistant dean of Harvard College for Public Service and director of Phillips Brooks House. Kidd said that the organization's leaders have been able to accomplish a lot in the year since the organization was formed.
The organization, which has about 15 members, has distributed information and organ donation cards at a variety of student events. Their biggest achievement has been an early April conference that featured Joseph Murray, who won the 1990 Nobel Prize for performing the first organ transplant in 1954, and a variety of other doctors and officials involved in organ donation and transplantation.
Weiner and Nudelman said they recognize some people have religious or personal reasons they don't want to donate, but they are pushing for people to discuss the issue and make a decision. They're convinced that the more people who do, the more organs will become available.
The two are currently working to gain official nonprofit status for the Youth for Organ Donation Awareness and have begun discussions about opening chapters at several other universities, including New York University, Massachusetts Institute of Technology, Wellesley, Brown, Princeton, and the University of Michigan.
"We want lots of people to be involved in this," Weiner said.