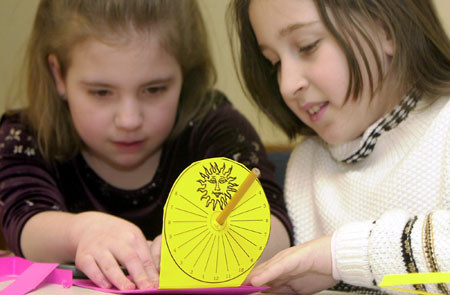 Staff photos by Jon Chase
There were cockroaches perched on little kids' fingers, cockroaches cupped in kids' hands, cockroaches crawling on the table – and 9-year-old faces screwed up in an odd mixture of excitement, disgust, and delight.
The Madagascar hissing roaches were one of the stars of the day last week when 20 Dedham fourth-graders descended on the Biological Laboratories for a half day of hands-on learning about the ocean, insects, and sundials.
"I could spend weeks in the classroom trying to cover the things we covered here today," said Maureen Simonson, the fourth-graders' teacher who led the field trip from Riverdale School in Dedham. "To have that combination of information and hands-on [experience] is just incredible."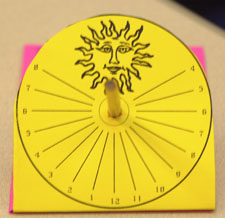 The Riverdale fourth-graders spent four hours at Harvard as part of an ongoing outreach program by the Faculty of Arts and Sciences' Department of Molecular and Cellular Biology.
Mandana Sassanfar, director of Precollege Outreach Programs for the department, said this was the first time a program was aimed at children as young as the fourth graders. The department has ongoing programs with high school students from Cambridge and Hudson, Mass., in which the children come to campus for lectures on different scientific topics as part of the advanced placement program.
In addition, the department also runs annual workshops for science teachers. The workshops, held each summer, give teachers a chance for in-depth learning about the general topics they teach all year long.
Sassanfar said she never has trouble finding presenters for workshops of this kind.
"They feel like this is something very important," Sassanfar said. "I'd say it's pure pleasure to feel like you're doing something important for the future of the kids."
Among the presenters were doctoral student Laura Geyer and Jean-Francois Bertrand, assistant curator of marine invertebrates at the Museum of Comparative Zoology (MCZ), who kicked off the day with a talk about the marine environment. Geyer and Bertrand, whose presentations got high marks from the children, went to the extent of going to Nahant and Revere Beach the week before, despite the cold weather, to collect live specimens so the children could learn about life on and near the beach.
MCZ Research Assistant Jennifer Mills picked up where Geyer and Bertrand left off with a talk about insects, and Sara Schechner, the David P. Wheatland Curator of the Collection of Historical Scientific Instruments, guided the students through a workshop in making their own sundials.
The presentations were filled with interesting tidbits, such as the fact that crabs, insects, and spiders are all related, that some insects smell with their feet, and that there's a difference between a timekeeper, like a stopwatch, and a time-finder, such as a sundial.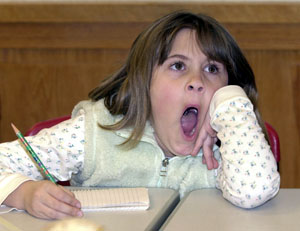 Mills peppered her talk about insects with things that would hold a 9-year-old's imagination. She talked about the idea that insects can live for a while without their heads because their most important nervous system functions are in their thorax and abdomen; and that her favorite insect, the parasitoid, lays eggs inside other insects so their young can eat their way out of the living host as they develop.
One student, Molly Dorson, said her favorite part of the day was the morning's marine presentation, when she got a chance to hold live snails, crabs, and sea urchins.
"I like science," said Dorson, who wants to be a veterinarian when she grows up. "I had fun."
The presenters said they enjoyed reaching out to a different audience than the one they normally reach. Schechner said she hoped her presentation on sundials gave the children more than just knowledge of how a sundial works, but also a feeling for how people lived in the past.
"I hope they'll get out of it an understanding of the scientific principles involved and a sense of the history behind it and [an understanding of] the way people lived their lives in the past," Schechner said. "If you were in the past, you didn't have a watch, you had a pocket sundial."
Simonson gave the presenters high marks, saying they did a great job of adjusting their material to a young audience.
"I wondered if the experts here could deal with 9-year-olds. They've done great. They've come right down to their level," Simonson said. "It's actually exceeded my expectations."
Simonson said she was also pleased that several of the presenters were women. Studies have shown that many girls lose interest in science by age 12, Simonson said. Seeing positive role models, like women who love their jobs studying insects, marine life, or historical scientific instruments, could have a value far beyond any knowledge the children gained.
"[It's important that] the staff here is reaching out to younger children before the influence of other things in society affects them," Simonson said. "I think watching Jennifer, for example, with the cockroaches and seeing her so into her job. That is going to affect them."