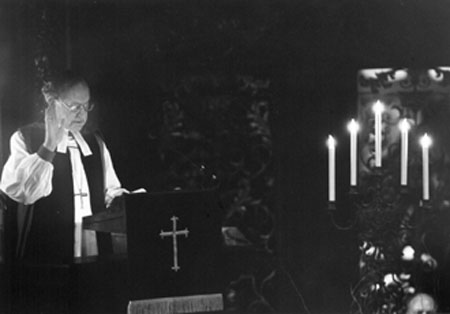 A memorial service for the Right Reverend and Right Honorable Lord Robert Runcie of Cuddesdon will be held at 4 p.m. on Saturday, April 21, in the Memorial Church. The service is open to the public. It will be the only such service offered in the United States in memory of the late archbishop. Lord Runcie served as the 102nd archbishop of Canterbury from 1980 to 1991, and during his tenure expressed reformist ideas that were often in opposition to the then Conservative government.
He worked to improve relations between Christians and Jews and between Protestants and Catholics, inviting Pope John Paul II to Canterbury in 1982, the first time a pope had visited Britain since the Reformation.
He first came to Harvard in 1986, as the William Belden Noble lecturer during the University's 350th Anniversary Celebration. From that time he was a frequent and popular preacher both on Sundays and at Morning Prayers services, and was a longtime member of the Overseers' Committee to Visit the Memorial Church. He last preached at Harvard on April 12, 1997.
Lord Runcie died in his sleep in Hertfordshire, England, on July 11, 2000, after a long battle with cancer. A memorial service was held at Westminster Abbey in London in November.
On remembering Runcie, the Rev. Peter J. Gomes said: "He was well-used of God throughout the world. How fortunate we were to be able to have counted him among our most cherished friends." Plans are under way to establish a fellowship at Harvard in Runcie's memory.