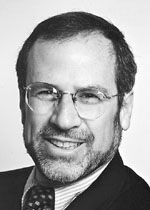 Frederick Schauer, academic dean and Frank Stanton Professor of the First Amendment at the Kennedy School of Government, is among a distinguished group of scholars, scientists, and artists awarded fellowships by the John Simon Guggenheim Foundation.
Guggenheim Fellows are chosen on the basis of past achievements and their promise for future accomplishment. Schauer was cited for his work on generalization and justice, which lays the groundwork for a research project on the benefits of generalization in decision-making.
"The problem of generality and generalization – should decisions be made one-by-one or in large chunks, on the basis of rules or on the basis of all potentially relevant features of a particular situation, in reliance on statistical tendencies or in reliance on individual observation – is a pervasive one in law, in policy-making, in decision theory, and in philosophy," said Schauer. "This project attempts to distinguish the permissible from the impermissible uses of generalizations, and I am grateful to the Guggenheim Memorial Foundation for its confidence in me and in this project, and for supporting my work."
Schauer is the author of several books and more than 125 articles on constitutional law, the philosophy of law, legal reasoning, the theory of rights, and freedom of speech and the press. He has taught and advised on issues of legal and constitutional development in several nations, including Australia, Belarus, Chile, Estonia, Mongolia, South Africa, and the Faroe Islands.
This year's class of 183 Fellowship winners has been awarded a total of $6,588,000 to fund their individual research. Previous Guggenheim Fellows include Ansel Adams, Aaron Copland, Martha Graham, Henry Kissinger, and James Watson.