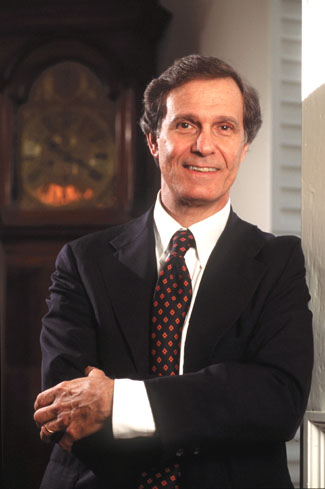 Beginning to plan his post-presidential pursuits, President Neil L. Rudenstine has agreed to serve as chairman of a major new nonprofit organization that will develop, maintain, and distribute digital resources for the study of art, architecture, design, and related fields in the humanities.
Over time, the new venture, to be known as "ArtSTOR," will "store" and make widely accessible very large collections of high-quality digital images and related archival and other scholarly materials. It will be sponsored by the Andrew W. Mellon Foundation, of which Rudenstine served as executive vice president from 1988 until 1991, when he was named president of Harvard.
"This is an exciting new undertaking that holds great promise for enhancing the study of the arts and humanities around the world," Rudenstine said. "Given my own strong interests in both the future of humanistic learning and the power of new technologies to advance education and scholarship, I am looking forward with great anticipation to helping ArtSTOR flourish."
ArtSTOR's mission will be to facilitate the work of scholars, teachers, and students who use images as an important aspect of their work. The venture is conceived as a counterpart to JSTOR, initiated by the Mellon Foundation in 1995 to create a digital archive of many leading scholarly journals and to make them readily accessible by means of the World Wide Web.
"If you were teaching a course about a leading Renaissance painter, or writing a monograph on a particular architect," Rudenstine said, "then ArtSTOR, in time, could offer you instantaneous online access to high-quality images of a significant proportion of the works you would inevitably want to observe and study – as well as archival and other materials that relate to those works. It's a complicated and ambitious enterprise, but one with potentially huge benefits for scholars, teachers, and students of the arts worldwide."
Rudenstine, whose own scholarly background is in Renaissance studies, expects to devote approximately half his professional time to the new venture, first in leading an advisory group that will guide the launch of ArtSTOR, and then as an active chairman of its board of trustees. He and his wife, Angelica, expect to live in New York City and Princeton. Meanwhile, Rudenstine is continuing to consider other possible activities as he contemplates life beyond Massachusetts Hall after June 30.