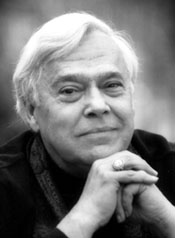 The 2001 Francis Greenwood Peabody Lecture will be given by Reynolds Price, James B. Duke Professor of English at Duke University, at 10:30 a.m. on Saturday, April 21, in the Memorial Church. The lecture is free and open to the public.
As part of the lecture, Youth pro Musica, the Greater Boston Youth Chorus, conducted by Hazel Somerville, will perform "Angels," by Harvard College music graduate Daniel Roihl.
This work on a poem by Price was commissioned for the 20th anniversary Carolina Chorister Training Course of the Royal School of Church Music in America, held last summer in Charlotte, N.C.
A native North Carolinian, Price graduated summa cum laude from Duke University and received a B.Litt. degree from Merton College at Oxford University in England, where he was a Rhodes Scholar. He returned to Duke where he is now in his fourth decade of teaching and is a distinguished novelist, poet, dramatist, and essayist. Price's novel, "A Long and Happy Life," received the William Faulkner Award for a notable first novel. He has since published nearly 30 books, including "A Palpable God, " which contains translations from the Old and New Testaments with an essay on the origins and aims of narrative, and "Three Gospels," containing his translations of the Gospels of Mark and John with introductory essays. His work has been broadcast on National Public Radio and on PBS television, and his books have appeared in 16 languages.
Francis Greenwood Peabody (1847-1936) graduated from Harvard College in 1869 and served from 1881 to 1905 as Harvard's third Plummer Professor of Christian Morals, assuming the title of College Preacher at the age of 34. Born in Boston, Peabody prepared for the ministry at Harvard Divinity School, and served for six years as minister of the First Parish Church in Cambridge, Mass. He was famous for his application of Christian theology to the social problems of the day. As a founder of Phillips Brooks House, he was an ardent advocate of social service.