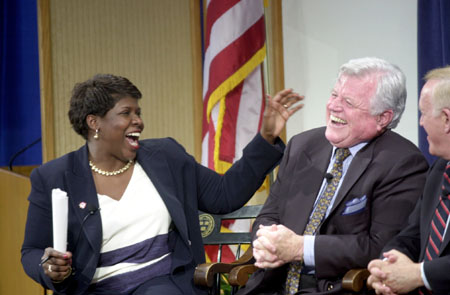 Engaging in electoral politics is an exciting and rewarding way to try to heal the ills of the world, but it's not the only way – that was the consensus of a distinguished forum Monday, April 9, at the Kennedy School's Institute of Politics.
"Reflections on Public Service" brought together Sen. Edward M. Kennedy (D-Mass.), former Sen. Warren Rudman (R-N.H.), former congressman and lecturer in public policy Philip Sharp (D-Ind.), and best-selling historian and TV commentator Doris Kearns Goodwin. The moderator was Gwen Ifill, of "Washington Week in Review" and "The NewsHour With Jim Leher."
Kennedy said that he had seen the difference idealistic young people made in the fight for civil rights, the protest movement against the Vietnam War, and the struggle to protect the environment.
"My belief is that volunteerism is alive and well," he said. "You don't have to be a U.S. senator to make a difference. All you have to do is care."
Rudman spoke of the need for inspiring leadership. He described how, as a young man, he had been inspired to devote himself to public service by President John F. Kennedy. He said that Sen. John McCain, whose 2000 presidential campaign he managed, has a similar ability to inspire people.
"It's only by inspiring people that you motivate them," he said.
Rudman said that it was disappointing that many of today's young people don't bother to vote and have apparently opted out of the political process, but he added that, in his view, "any kind of public service is the right kind of public service," and that there is nothing as satisfying as "going after a public issue that you think needs addressing."
Sharp, who lost several elections before winning a seat in the U.S. House of Representatives, said that a political campaign is an opportunity for bringing up issues, and that a politician can often make a contribution even if he or she loses.
"I teach my students that they can not only run to win, they can also run to lose. You can teach the public a lot by losing."
Goodwin spoke about Abraham Lincoln, the subject of a book she is now writing. Lincoln went into a depression in his 30s, so severe that his friends feared for his life. Lincoln told them that while he was not afraid to die, he did not want to end his life before he had done something to benefit humanity. When he issued the Emancipation Proclamation in 1862, he said that he had now accomplished what he had set out to do.
Goodwin also spoke about Rose Kennedy, who revealed to her in an interview that even though the lives of her sons John and Robert had been cut tragically short, their sacrifice had been worthwhile because of what they had accomplished in the field of public service.