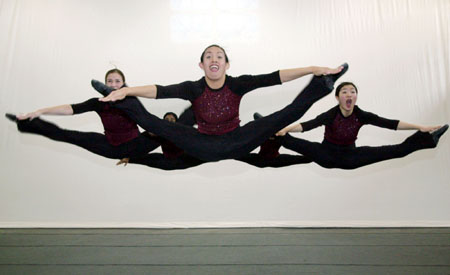 Staff photos by Jon Chase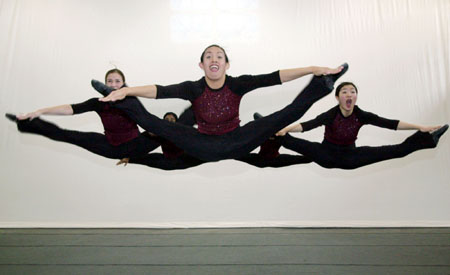 There are some areas where, believe it or not, Harvard is not No. 1.
In dance team competition, for example, Harvard has twirled and kicked its heart out, and still finished near the back of the pack, trailing such powerhouses as Towson University and the University of North Carolina.
This is why the Crimson Dance Team's fifth-place finish this past Sunday, April 8, at the National Collegiate Competition in Daytona Beach, Fla., is such a cause for rejoicing. The Harvard team has only been in existence since 1995. Before this year, the team has never finished higher than 12th among the 22 teams that compete in Division 1.
"The best part of the entire experience was that we were the underdogs of the competition – no one expected us to do so well," said team member Kelly Turner '01.
Dance teams generally perform at college athletic events, but they aren't cheerleaders. They don't do somersaults or climb on each other's shoulders. Instead, they perform high energy ensemble dance numbers that combine elements of jazz dance, funk, and something called pom, which resembles cheerleading but without the flips and tumbling.
This was the first year that the Harvard team raised enough money, largely by selling T-shirts and programs at basketball games, to hire a choreographer, Liz Piccoli. With her help, they put together a routine lasting a little more than two minutes in which the 12-member, all female team start out as lifeless puppets who begin to twitch into sudden animation, steadily gaining power and mobility until they break free of their strings. This was the routine that won them fifth place in Sunday's competition.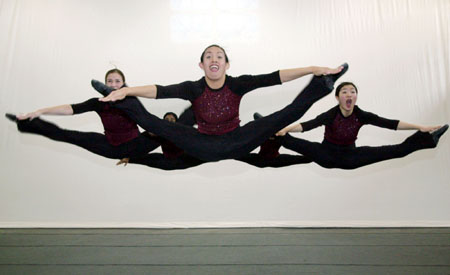 A videotape of an earlier routine impressed the judges enough to rank the team number three going into the competition, an outcome that astounded the hard-working dancers.
"It was very exciting," said co-captain Kimberlee Garris '01. "I found out the results online, and then I e-mailed everyone on the team. We were just shocked."
Like most of the women on the team, Garris has studied dance most of her life, starting when she was three. In addition to devoting about 20 hours a week to the team, she has performed with other groups at Harvard, such as the Mainly Jazz Dance Company.
Because the team has been in existence such a short time, there aren't many Crimson Dance Team alumnae – six to be precise.
But spirit is high among former members, so high in fact that five of the six made it to Daytona to cheer the team on. That may have been the key element that put the team over the top.
"Making the top 10 has been the Crimson Dance Team's goal for six years, and we were so happy to have the alums there when we finally achieved it," Turner said.