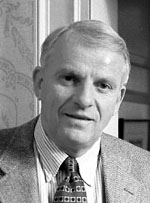 John E. Dowling, the Maria Moors Cabot Professor of Natural Sciences at Harvard University, was recently awarded the prestigious Llura Liggett Gund Award from The Foundation Fighting Blindness.
The Llura Liggett Gund Award recognizes medical researchers who, throughout their careers, have made the greatest contributions to retinal degenerative disease (RDD) research. This is only the third time that the award has been presented.
"Dr. Dowling's outstanding work has played a significant role in the advancement of RDD research," said Gordon Gund, chairman of the board of the foundation."When the foundation first got its start, virtually nothing was known about retinitis pigmentosa, macular degeneration, Usher syndrome, or any of the other retinal degenerative diseases. But Dr. Dowling has been with us every step of the way – advising us on the most pivotal scientific policy decisions. And thanks to his efforts, we are closer than ever to finding treatments and cures for these blinding diseases. We are eternally grateful to John for the role he has played in helping us to realize our mission."
Early in his career, Dowling worked as a researcher under Nobel Prize winner George Wald. During this time, Dowling mapped the exchange of retinoids between the retinal photoreceptors where they are used in photoreception and the pigment epithelial cell where the retinoids are stored. Because of Dowling's work, this process is now described in all biology textbooks.
In addition, Dowling's groundbreaking work on the functional organization of the retina laid the foundation for understanding how the retina begins to integrate and analyze visual information. Dowling has received numerous awards including the Friedenwald Medal, the highest scientific award from the Association for Research in Vision and Ophthalmology. He was also elected as a member of the National Academy of Science, the highest level of distinction in American science.
The Llura Liggett Gund Award, commissioned by a private donor and named for one of the founding members of the foundation Fighting Blindness, is embodied in an original Steuben crystal sculpture, designed exclusively for the foundation.
The Foundation Fighting Blindness is the largest source of nongovernmental funding for retinal degenerative disease research in the world. The urgent mission of the foundation is to find treatments and cures for all retinal degenerative diseases including macular degeneration, retinitis pigmentosa, Usher syndrome, and Stargardt disease. As a group, these diseases affect more than 6 million people in the United States and several more million worldwide. The National Health Council consistently rates the foundation as "No. 1" for the percentage of program dollars spent on research.
Visit the foundation on the Web at http://www.blindness.org.