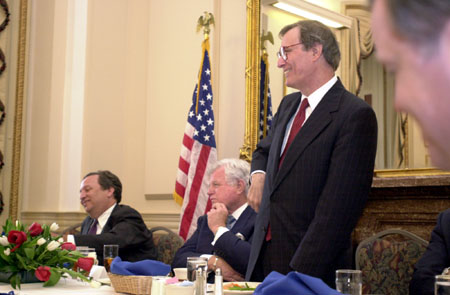 The present and future presidents of the University were honored in the nation's capital this week. President Neil L. Rudenstine and incoming president, Lawrence H. Summers, were honored at a luncheon on Capitol Hill in Washington, D.C., on Tuesday, April 24. Hosting the event were Sen. Edward Kennedy (D-Mass.), Congresswoman Nancy Johnson (R-Conn.) and Harvard's own representative, Congressman Michael Capuano (D-Mass.). Kennedy paid tribute to Rudenstine's efforts to ensure that the federal government not forget its obligation to provide financial aid to needy college students. He also lauded Rudenstine's leadership in lobbying Congress to stop reductions in payments to Massachusetts teaching hospitals. In addition, Kennedy praised Rudenstine's commitment to the notion that – in order to ensure a diverse student body – colleges use their own criteria in admitting students.
During the luncheon, members of the Massachusetts congressional delegation and Harvard alumni(ae) in Congress peppered Rudenstine and Summers with questions about the role of the core curriculum in the College today, the growth in the number of international students, and Harvard's ability to make these students welcome and to provide sufficient student financial aid.
One member commented that his daughter, a student at Stanford, had found that her classmates tended to self-segregate in their dorms and activities, and wondered whether this occurred to the same degree at Harvard. Rudenstine responded that because there were no racially- or ethnically-restricted houses at Harvard, and because students are randomized in dormitory and house selection, there is, at Harvard, less of a tendency for students to socialize only with others like themselves.
When Summers was asked how he planned to improve undergraduate education, he responded that increasing the number of faculty and creating incentives for senior faculty to teach more undergraduate were two improvements he had in mind.