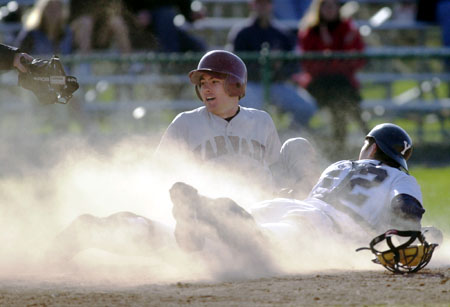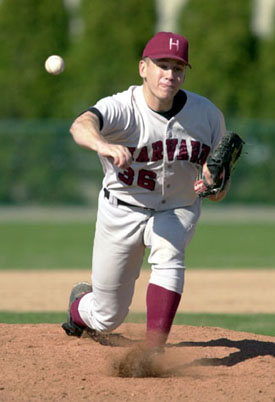 The Harvard baseball team wrapped up a four-game series against Yale with a pair of wins this past Saturday (April 14), after splitting a doubleheader a day earlier. The Crimson finished the homestand weekend with three consecutive victories, good for a 3-1 mark.
Both teams were scoreless through five innings of Saturday's first game, until Harvard blasted seven runs in the bottom of the sixth. Senior captain Scot Hopps hit a double off of Yale pitcher Matt McCarthy to start the Crimson rally. Junior Brian Lentz added a two-run RBI, to build on the lead. With the Crimson up 6-0, Yale's Doug Shimokawa came in to relieve McCarthy. The Crimson responded with one more run to earn the 7-0 shutout.
In game two, Harvard senior John Birtwell improved his record to 4-2, pitching eight innings for the Crimson. Giving up only eight hits, Birtwell benefited from the ample offense of his teammates, such as junior Faiz Shakir's five RBIs. Junior Mark Mager hammered in three runs off three hits in the game, while Lentz knocked in two runs to finish the day with four RBIs. Yale went through five pitchers in the contest, with Doug Feller taking the 13-3 beating for the Bulldogs.
Harvard's three-game streak was temporarily interrupted this past Tuesday (April 17), with Northeastern topping the Crimson 4-2 at Friedman Diamond.
The Crimson brings its 12-19 record (7-5 Ivy) to Providence this weekend, April 21-22, for two doubleheaders against Brown.