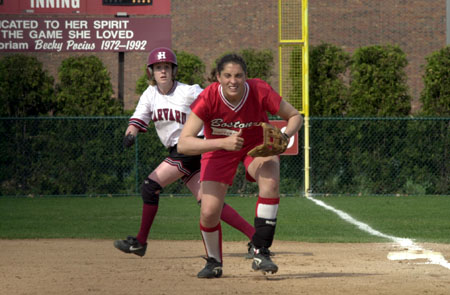 Freshman Sara Williamson doubled in the bottom of the seventh to drive in the winning run of a 5-4 decision against Boston University this past Tuesday afternoon at Harvard's Soldiers Field. The loss ended an 18-game win streak for the Terriers, while extending the Crimson's run to a season-high five games. With the win, the team improves to 18-15, 9-3 Ivy.
Harvard enjoyed an early 3-0 cushion, yet B.U. responded briskly with three runs of its own in the top of the second to tie the game 3-3.
A solo homerun in the fifth put the Terriers up 4-3, but after walking the next batter, Crimson Athlete of the Week – senior pitcher Chelsea Thoke – struck out three Terrier batters in a row to close out the inning.
In the bottom of the seventh, freshmen Breanne Cooley and Kim Koral singled, and junior Tiffany Whitton doubled in the tying run. Williamson then hit her team-high 11th double to send Koral home with the winning run.
Harvard outhit B.U. 12-4 and freshman Kara Brotemarkle earned the win, improving to 9-5, after entering the game in the sixth and giving up just one hit.
Harvard faces Dartmouth in a pivotal Ivy League doubleheader on Saturday, April 28, in Hanover, N.H. With a sweep of the Big Green, Harvard has a chance to defend its Ivy title against Cornell.