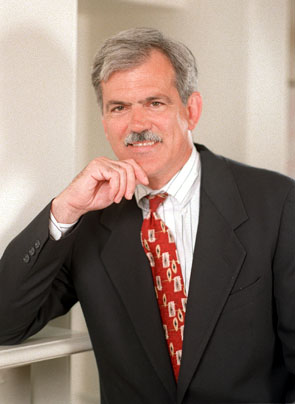 Vice President for Government, Community and Public Affairs Paul Grogan will leave Harvard July 1 to take the helm of The Boston Foundation, a philanthropy dedicated to building community in Boston and helping the city's poor.
Since his arrival at Harvard in 1999, Grogan has overseen the Office of Government, Community and Public Affairs. The office handles Harvard's lobbying in Washington, its relationship with Cambridge and Boston, and its external communications, both through relations with the outside media and publication of the Harvard Gazette.
During his tenure at Harvard, Grogan has worked to improve the University's relations with Boston and Cambridge. Those efforts paid off in the establishment of community-based partnerships, including 20/20/2000, an affordable housing partnership in which the University will invest $20 million over 20 years for affordable housing in Boston and Cambridge.
"I have appreciated enormously the chance to be part of Neil Rudenstine's team," Grogan said. "Harvard is embarked on a course of deep, productive involvement in the life of our two cities – to the great benefit of the cities and to Harvard as well."
Grogan was also instrumental in setting up Harvard's recently announced $5 million contribution to a $23 million effort to expand after-school programs in Boston.
Harvard President Neil L. Rudenstine wished Grogan well and said his work has made the University a better place.
"Paul Grogan has done a terrific job for Harvard these past several years, and The Boston Foundation will be very fortunate to have the benefit of his leadership and wisdom," Rudenstine said. "Paul has brought a sense of real insight, energy, and innovation to the important task of building Harvard's relationships with our neighboring communities, while ably guiding the University's work in Washington and enhancing our efforts in public affairs. He will leave a strong and very positive mark on Harvard, and I join his many admirers here in wishing him all the best in the next stage of his impressive career."
Incoming Harvard President Lawrence H. Summers said he is sorry to see Grogan leave, but he is sure the two will work together in their new roles to benefit the community.
"I know how much skill and experience Paul Grogan has brought to his important role at Harvard and I'm sorry that I won't have the chance to work with him from day to day," Summers said. "Still, I look forward to the opportunity to work closely with him, not only during these transitional months, but also in his new capacity as the leader of an organization so important to the civic life of our local communities."
Before coming to Harvard, Grogan was president and chief executive officer of the nonprofit Local Initiatives Support Corporation (LISC), the country's largest community development intermediary.
During Grogan's tenure as president, LISC raised and invested more than $3 billion of private capital in inner-city revitalization efforts across America. That money was channeled through local nonprofit community development corporations to produce more than 80,000 homes for low-income families and nearly 13 million square feet of commercial and community facilities.
Before joining LISC, Grogan served Boston Mayors Kevin White and Raymond Flynn in several staff positions. He headed Boston's Neighborhood Development and Employment Agency in the early 1980s, where he pioneered a series of public/private ventures that have served as models for other cities.
Grogan also co-authored a book, published last year, on the improving environment in America's cities: "Comeback Cities: A Blueprint for Urban Neighborhood Revival."
Grogan will replace outgoing Boston Foundation President Anna Faith Jones, who has been the Foundation's president since 1985. Founded in 1915, The Boston Foundation is one of the nation's oldest and largest community foundations and is the largest grant-giving institution in New England.
The foundation currently manages 650 charitable funds, established to benefit the community at large or to support specific goals or organizations. Its endowment has grown from $250 million to $700 million over the last decade.
"I am deeply honored that The Boston Foundation has offered me this opportunity," Grogan said. "It is an unparalleled chance to make a difference in the city I love the best."