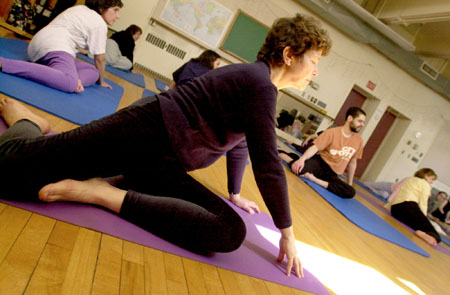 Staff photos by Rose Lincoln
Many of the yoga classes around today seem designed more to torture you than to help you reach nirvana. The warrior pose, the downward-facing dog, and the extended side-angle pose are nothing in comparison to the really advanced postures, the hard-core twists and bends and joint-crushing coils that most people would need several lifetimes to contort themselves into. Not to mention that we everyday folks now have to contend with yoga's new image as a "centering" device for beautiful people, the Madonnas and Gwyneths and Tom Cruises of the world.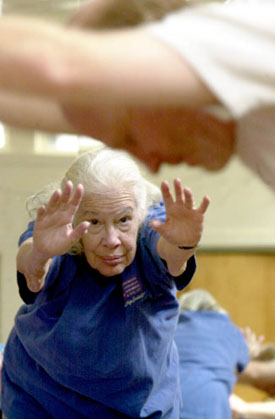 You'll find no such pretensions in the Tuesday-afternoon classes taught by John Schlorholtz at the Cambridge Center for Adult Education on Brattle Street.
Schlorholtz makes sure his students find yoga fun and, perhaps more important, pretty easy too. He doesn't use props such as blocks and belts. He doesn't bark out commands or chastise you for your imprecise alignment. He doesn't try to get you to touch your toes to your forehead while balancing upside-down on one hand. Schlorholtz makes it more about rhythm, about breathing, about listening to your body.
"I'm going to give you options," he says as his 18 students lie on their backs with their feet in the air. "Feel free to pause if you want to. Take a couple minutes to do what your unique system feels like it wants to do. Whatever feels good for your body at this point."
The approach has gained Schlorholtz a devoted following among Harvard faculty and staff. Steve Tanner, a 36-year-old access services supervisor in the Government Documents and Non-Book Format Division of Lamont Library, says the time he spends with Schlorholtz "is the hour that makes the rest of my week a lot more bearable. It's my hour of sanity."
Ann Louise McLaughlin, 74, has been taking classes with Schlorholtz for more than a decade. "My husband says it makes me easier to live with," says the retired senior editor for Harvard University Press. She adds with a smile, "I feel so good I'm taking the rest of the day off!"
Namaste.