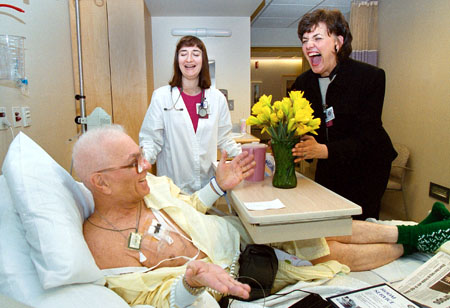 Harvard collected a record $34,101 for the American Cancer Society's annual Daffodil Days fundraiser this year, topping last year's total by 2.2 percent and helping fund the Cancer Society programs, including research seeking a cure for the disease. This year's results come just months after the University was recognized in February for being the top single-site seller in New England. This is the fourth consecutive year the University set an all-time high for contributions during Daffodil Days.
Contributions were made by Harvard faculty, staff, and students, who bought more than 5,600 bunches of 10 daffodils at $6 each. Sales ran through the end of February. The daffodils were delivered by Harvard Mail Services last week, in time for spring.
Since 1988, Harvard has raised almost $290,000 for what is one of the three largest annual fundraisers for the American Cancer Society.
The bright yellow daffodils this year not only decorated offices across Harvard, they also brightened the atmosphere at several area health care facilities, according to Carole Lee, Harvard's Daffodil Days coordinator for the past five years. What had been an annual tradition of donating a number of bouquets to the Oncology Department at Mt. Auburn Hospital this year blossomed into what Lee called "an overwhelming response" when 634 bouquets were donated.
There were so many bouquets, that they were spread out to other local facilities, including Cambridge Hospital, Youville Hospital and Rehabilitation Center, and Sancta Maria Nursing Facility in Cambridge.
Lee thanked the departmental coordinators for their efforts in selling the flowers. She singled out this year's top sellers, including Peter Conlin from the Development Office, Maureen Griffin Leary and Susan Sessler from the Law School, and Jennifer Moltoni and Donna McLean from the School of Public Health, who ranked first, second, and third in numbers of flowers sold.
Other top sellers were Karen Brewster of Harvard Business School Publishing Services, Erin Duffy of the Business School Financial Office, Patti Gorman of the Chemistry Department, and Lynne Perry of the Harvard Management Company.
Lee also thanked Harvard Mail Services for their efforts to distribute the flowers. Ensuring more than 56,000 fresh flowers find their way to 96 different locations in Boston and Cambridge is a major undertaking, Lee said. The flowers arrived Friday, March 23, and were stored and prepared for delivery the following Monday at A. Russo & Sons in Watertown.
"Cancer touches so many people that I don't think there's anybody who in some form has not been touched by cancer in their families, in their lives, through close friends," Lee said. "I think this is one event where you donate to a worthy cause and get something back – flowers. And they're so pretty this time of year."