The NFL's Cleveland Browns have signed Harvard All-America offensive tackle Mike Clare '01 to a free agent contract. Clare's signing gives Harvard six players who have signed professional football contracts in the last four years.
Matt Birk '98 is an All-Pro center with the Minnesota Vikings; Tim Fleiszer '98 was the first overall pick in the 1998 CFL draft by the Hamilton Tiger-Cats and now plays with Montreal; linebacker Isaiah Kacyvenski '00 is a reserve linebacker with the Seattle Seahawks; Chris Eitzmann '00 was a free agent signee with the New England Patriots and appeared in several regular season games last season; and Mike Sands '00 is the property of the Pittsburgh Steelers and currently plays with the Rhein Fire of NFL Europe.
When Clare first visited Harvard, he recalls, "I fell in love with the place. . . . The guys were awesome and it was a great fit." The love did not go unrequited. Coach Tim Murphy, commenting on Clare's impact on the Crimson offense, said "In my opinion, Mike is the top offensive lineman in the Ivy League. He is smart, tough, and dependable."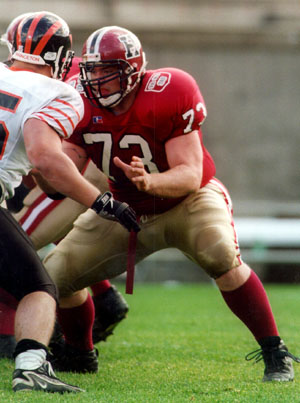 Clare was a three-year starter at left tackle for the Crimson and earned First Team All-America as a senior. He was twice chosen First Team All-Ivy League. In 2000, he helped the Harvard offense finish with a school-record 4,679 total yards and score a modern-day record 327 points.
The Adams House resident also scores off the field with his volunteer work at the Mission Hill After School Program, where he helps youngsters with homework, takes them on field trips, and has helped organize sleepovers on the Harvard campus.
"It's a lot of fun working with the kids every week," says Clare of the student-run program that originates through the Phillips Brooks House. "I'm really taken by their innocence and utter appreciation for what we do. But it's a give-and-take relationship, and I don't think these kids realize what they're giving to us."