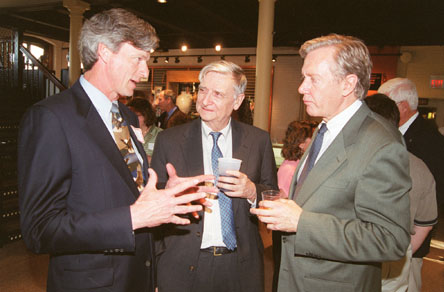 Former U.S. Interior Secretary Bruce Babbitt slammed President George Bush's global warming record Sunday, delivering a combination call to action and political stump speech to an enthusiastic Earth Day crowd of about 800 gathered in Sanders Theatre.
Babbitt, this year's Roger Tory Peterson Memorial lecturer and medal winner, said Bush has "retreated to the sidelines" of the debate over global warming and has maintained a silence on the issue that "demeans our country, our history, and our proud tradition of world leadership.
"I know those are strong words, but the times call for candor," Babbitt said.
Babbitt's comments join a chorus of criticism aimed at Bush for various actions – or inaction – on the environment. Since taking office in January, Bush has reneged on a campaign promise to impose mandatory carbon dioxide reductions on power plants. He also has drawn fire for his support for oil drilling in the Arctic National Wildlife Refuge and for his rejection of the Kyoto Protocol, which would establish worldwide guidelines for controlling emissions of the greenhouse gas carbon dioxide.
Amidst the criticism, the Bush administration has defended its environmental record, citing its recent support for a global ban on a dozen dangerous, long-lived chemicals, including DDT, PCBs, and dioxin, and support for new reporting requirements for industrial lead emissions.
Babbitt, who ran for the Democratic nomination for president in 1988, won the heartfelt approval of the students, faculty, and community members who attended the lecture, gaining two standing ovations from the crowd.
"It was really inspiring. It really gave a lot for young people to think about," said Christina Shay, a Harvard junior and president of the Environmental Network, a student group dedicated to preserving the environment.
In being named this year's Peterson lecturer and medallist, Babbitt is in illustrious company, joining previous winners who include famed Harvard biologist Edward O. Wilson; biologist and Pulitzer Prize-winning author Jared M. Diamond; and population expert Paul R. Ehrlich.
The annual Peterson lecture was established in 1997 by the Harvard Museum of Natural History. It is named for naturalist and ornithologist Roger Tory Peterson, who is perhaps best-known for the "Peterson Field Guide to Birds."
Babbitt, who was introduced by Edward O. Wilson as "a great defender of the environment," served as U.S. Secretary of the Interior from January 1993 until January 2001. Before that, he served as Arizona's governor from 1978 until 1987, and Arizona's attorney general from 1975 until 1978.
During his tenure as interior secretary, Babbitt initiated several large-scale restoration projects, the most famous of which is the massive project to restore the Florida Everglades. He also oversaw wildlife re-introduction programs such as the restoration of the gray wolf to Yellowstone National Park, and he advised President Bill Clinton on the use of the Antiquities Act to protect natural areas from development.
"We need his voice now, as never before, in whatever venue he chooses," Wilson said in introducing Babbitt.
In his occasionally humorous, half-hour speech, Babbitt said the first step in fighting global warming has to be unilateral U.S. action on its own carbon dioxide emissions. The United States produces about 25 percent of the world's carbon dioxide, more than any other country.
Once we've taken action ourselves, Babbitt said, we would have the moral authority to negotiate internationally. Babbitt suggested setting up a carbon dioxide credit trading system, similar to that currently in use for sulfur dioxide. Under the system, a factory is permitted to emit a certain amount of sulfur dioxide. If it can restrict its emissions below the permitted levels, it can sell the right to emit that pollution as "credits" to other industries.
Babbitt drew a parallel between today's environmental concerns and those of the 1970s and 1980s, when the United States worked to ban the use of chlorofluorocarbons, or CFCs, that were implicated in reduction of the ozone layer.
At that time, Babbitt said, the United States first banned them in this country and then worked for a global agreement to reduce the use of the ozone-killing chemicals. The campaign appears to be working. Scientists predicted in October that the ozone hole would probably be closed within 50 years.
To reduce the nation's carbon emissions, the country will have to find sources of energy other than coal, oil, and natural gas, Babbitt said. Though increased energy production from clean, renewable sources will doubtless help, Babbitt said nuclear power will likely have to play an increased role in the nation's energy mix.
"The difficulty of this task is matched only by its importance. There is nothing less at stake than the future of our planet, of life on this Earth, and the well-being of generations to come," Babbitt said. "It is time to act."