Dame Edna Everage, the mauve-haired, gladiola-flinging megastar currently holding court at the Wilbur Theatre in Boston, has become a celebrity of such magnitude that many assume her to be a sort of eternal presence, like the constellations.
Those who attended an event at Kirkland House last Friday, March 9, had an opportunity to learn otherwise. Barry Humphries, an Australian actor and entertainer, explained to an audience of several hundred how he happened to create the character of Dame Edna and how she has evolved through the years. Humphries appeared as part of the Office for the Arts Learning From Performers Program.
(A caveat: Dame Edna does not recognize Humphries as her creator, characterizing him in interviews as nothing more than her incompetent and annoying manager whom she's stuck with as the result of a long-term contract.)
According to Humphries, however, Dame Edna was born in 1955 when Humphries, then a dilettantish student at the University of Melbourne and an aspiring actor, was asked to write a skit for a Christmas show. Melbourne was gearing up for the 1956 Summer Olympics and was short on accommodations for visiting athletes.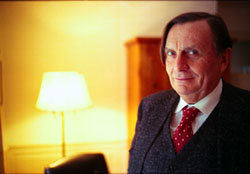 An appeal had been made for people "to give up their spare bedrooms to Latvian pole-vaulters," and Humphries hit on the idea of an interview with an Australian housewife willing to put up one of the athletes in her suburban home. The actress Zoe Caldwell was supposed to have played Edna, but, in a last-minute switch, Humphries donned a dress and took on the role himself.
"Having men impersonate women doesn't disturb people as much as it does here," Humphries said. "Fortunately, they sent the convicts to Australia and the Puritans to America."
In the skit, Edna proudly described the decor of her home in endless and exhaustive detail, which the audience found extremely funny.
"I realized then that she had some mileage," Humphries said. "Every time I revived Edna, she changed. For example, she became better-dressed – much better-dressed than even the best-dressed woman in the audience, which of course is not difficult in Boston."
Another way in which Edna changed was that she began to make her shows interactive, picking on poor cringing members of the audiences and forcing them to come up on stage and answer questions about themselves.
"In fact," Humphries said, "Edna decided that she was the audience, confronted by this great, ill-rehearsed group. What began as a private joke became something the audience enjoys as much as I do."
Humphries said that while it is difficult to shock audiences anymore, he still likes to surprise people. Dame Edna's habit of hurling gladiolas into the audience as a finale to her act evolved in this way.
Humphries always had a vase of gladiolas on stage because they seemed to epitomize both Dame Edna and Australia. "They're very unsubtle flowers. They're insensitive looking, ambitious looking, and very brightly colored."
At one show, Humphries noticed a woman in the front row staring at the gladiolas instead of at him. "I took the glads and flung them at her, and to my surprise she passed them along the row, and then everybody started twitching them to the music. The audience got positively jiggy with it, and I suddenly realized I had found the ending of my show."
Humphries said that the ritual flinging of the gladiolas is part of the process of "infantilizing the audience," of "turning them all into a single animal."
Humphries has created many other characters that he has yet to bring to the United States. There is Les Patterson, an Australian politician who is in a perpetual state of intoxication and sexual arousal. "He's quite a likeable character – but he spits a lot." A sort of male equivalent of Dame Edna is Sandy, a retired suburban homeowner who talks endlessly and hypnotically about the shrubs in his garden and how he parks his car. Sandy has since died, but returns in Humphries' stage shows as a ghost.
Humphries has also created a trade union leader named Lance Boyle and is currently working on a new character, a Chinese business tycoon.
In his most recent show in Australia, Humphries played himself as a small boy. Dressed in a sailor's suit and surrounded by oversized furniture, he performed some of the songs and monologues with which he first entertained his family as a child.