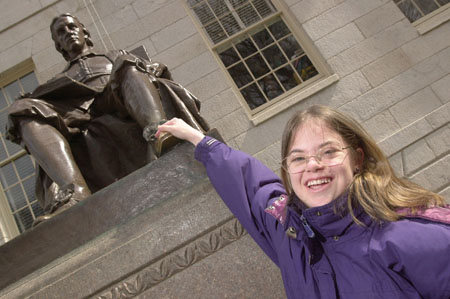 Photo by Jon Chase

There's a movie star in our midst. Her day job happens at a small desk inside the Harvard University Employment Office, but Ashley Wolfe is also a bona fide movie star.
"I did an episode on 'Third Watch' last year," she explains, "and that's actually how I got my role in the movie." Wolfe co-starred in the recent television production "Jewell" with a couple of very big names: Farrah Fawcett and Cicely Tyson.
"Farrah and I got along great. She was very professional, very gracious, very kind, and very warm. Cicely was tough, but it was good," says Wolfe of her month on a Canadian film set with the two superstars. "It was my first time in a feature film," Wolfe beams.
You'd never know it. The 23-year-old is a real pro. She talks about filmmaking, movie stars, and having her own trailer with a matter-of-factness that suggests she might have been born into the business. In fact, Ashley Wolfe's birth was far from a glamorous Hollywood tale, at least the ones we usually hear. Wolfe has Down syndrome, a genetic disorder involving the human chromosomes. Instead of the usual 46 chromosomes in each human cell, the cells of individuals with Down syndrome contain 47 chromosomes. The disorder causes broad developmental issues in children, and places Down syndrome adults at a higher-than-average risk for a variety of lifelong health problems.
An amazingly clear, articulate, and independent individual who holds two jobs, an apartment, and the attention of anyone willing to lend an ear, Ashley Wolfe does not fit the usual preconceptions about people with Down syndrome.
"The thing for any parents who have a child with Down syndrome, or a child with a learning disability is not excluding them, but exposing them," implores Wolfe. "Getting them out there … really giving them as much experience as possible. I can still remember my parents taking me out to museums and the theater, and all kinds of stuff. So that's really how I got my love for acting, for dancing, I guess for speaking as well." Although she clearly enjoys acting, Wolfe describes her celebrity as a "side thing," second in importance to her passion for speaking publicly about her life, and the lives of others with Down syndrome.
"There are so many people who are – I hate to use this term but I'm going to – 'ill-educated.' They make assumptions and pre-judgments of us. We've always been classified as a group, and I'm trying to get away from that and make people see that we are individuals … that we're no different from anybody else. We have the same rights. The biggest thing is breaking barriers – breaking stereotypes is my thing. Trying to change people's minds is my message … opening minds."
From Hollywood to Harvard and beyond, Ashley Wolfe is the right messenger for the job.
We serve the public interest! Interesting people, interesting jobs, interesting hobbies – we want them in the Big Picture. If you have an idea for the Big Picture, give us a buzz: big_picture@harvard.edu