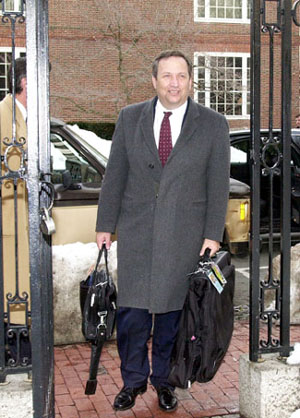 Former U.S. Treasury Secretary and former Harvard economics professor Lawrence H. Summers was appointed Harvard's 27th president on Sunday, setting the stage for him to succeed outgoing President Neil L. Rudenstine and usher in a new era for America's oldest university.
Summers was selected after an intensive nine-month search that saw a pool of 500 candidates winnowed to just one. The selection of Summers, 46, was made official in New York City with a vote of the Harvard Corporation, followed by a vote of the Board of Overseers.
"He is a person of extraordinary academic distinction with a deeply rooted understanding of the University and its purposes, as well as extensive leadership experience on the national and international scene," said Robert G. Stone Jr., senior fellow of the Harvard Corporation and chairman of the Search Committee. "We enthusiastically welcome him back to Harvard and look forward to his leadership in guiding the University wisely and ably into the future."
Summers will start work at Harvard on July 1. The incoming president said at a Loeb House news conference Sunday afternoon that the next few months will be spent listening to different groups at the University rather than speaking out and setting policy.
"I expect over the next several months, before taking up the presidency, to visit Cambridge often and to consult very widely," Summers said. "And before I do much more speaking I will be doing a great deal of listening to the members of this community."
Summers praised Rudenstine for leaving him an institution poised for a period of remarkable opportunity, including the future potential to develop land in Allston. Among the major challenges Summers cited are the effort to ensure undergraduate education of the highest quality, fostering cutting-edge thinking and teaching at the professional Schools, advancing learning in the humanities, and the need to stay on the cutting edge of research, particularly in the sciences where rapid advances and expensive equipment are sure to test both resources and researchers.
"Harvard is well-positioned to take these challenges on and it now has both the resources and the room to innovate and grow as it pursues its mission in a changing world," Summers said.
Rudenstine announced last spring that he will leave the presidency at the end of June after a decade in the post. Rudenstine called Summers' selection "a superb choice," saying Summers' experience at Harvard and outside it will prove valuable to both Summers and the University.
"He has a broad range of knowledge and interests that will serve all the Faculties and other parts of Harvard well," Rudenstine said. "And his experience around the world will enable him to give strong leadership to the University in an era when international and global affairs will continue to have a profound effect on our research, teaching, and learning."
Coming home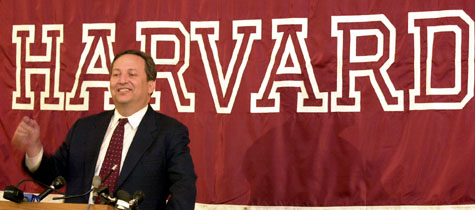 Among Summers' first words when he stepped to the podium Sunday were "It's good to be home." Summers spent much of the 1980s at Harvard, earning his Ph.D. here in 1982. In 1983, at age 28, he was named professor of economics, becoming one of the youngest ever appointed to a Harvard professorship.
Summers was named the Nathaniel Ropes Professor of Political Economy at Harvard in 1987. He took leave from Harvard in 1991 to become chief economist and vice president of development economics at the World Bank.
Summers spent his undergraduate years at the Massachusetts Institute of Technology and served as both assistant and associate professor there.
From the World Bank, he went to the U.S. Treasury in 1993, serving first as undersecretary of the Treasury for international affairs, then as deputy secretary. In 1999, he was appointed Secretary of the Treasury, succeeding Robert Rubin.
Stone described Summers as "a rare combination, one of the most respected scholars and one of the most influential public servants of his generation." Summers' many scholarly publications include "Understanding Unemployment" in 1990, and "Reform in Eastern Europe" in 1991, which he co-authored, and more than 100 articles.
In 1993, he won the John Bates Clark Medal, given every two years to the most outstanding American economist under 40. In 1987, Summers became the first social scientist ever to win the National Science Foundation's Alan T. Waterman Award, established by Congress to honor an outstanding young U.S. scientist or engineer whose work demonstrates originality, innovation, and a significant impact in their field.
300,000 letters
Summers' selection comes at the end of an exhaustive process that drew media attention from around the world.
The process kicked off last July and included the mailing of more than 300,000 letters to Harvard faculty, students, staff, and alumni, as well as leaders in higher education, government, and the non-profit world. The letters sought suggestions for candidates to fill the president's job, as well as input about the challenges facing Harvard and higher education.
The search committee consulted widely with the Harvard community and beyond. In its initial outreach phase, the committee met individually with about 200 faculty members and University officials, as well as a range of faculty committees and groups. It also personally consulted more than 100 students representing Harvard's different Schools, and more than 100 higher education leaders and others outside the University.
More than 500 possible candidates were suggested, and more than 1,200 letters received. The search committee whittled that down over the nine-month search, meeting 16 times before the March 11 vote.
"I want to thank the many members of the Harvard community – faculty, students staff, alumni and friends – who contributed their time and advice to the search," Stone said. "The thoughtful counsel we've received has been invaluable and we're very excited about the outcome."