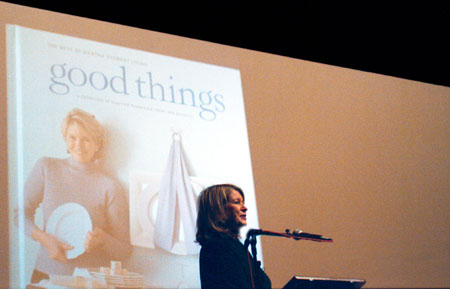 Home style maven Martha Stewart touted the "power of a single idea" at Sanders Theatre last week and told students that anyone can head their own company if they set their minds to it.
"It is within everyone's grasp to be a CEO. You really can do anything," Stewart said.
Of course, it doesn't hurt if that "anything" is classy, meticulously done, and well-photographed. That formula fits any number of things Stewart has tackled since she published her first book, "Martha Stewart Entertaining," in 1982.
Stewart's empire, under the umbrella of Martha Stewart Living Omnimedia Inc., today includes books, television shows, radio spots, ever-multiplying magazines, a newspaper column, a direct-mail operation, Internet sales, a line of paint, and Martha Stewart-branded gardening tools, kitchenware, patio furniture, plants, seeds, and, of course, window treatment.
Stewart delivered an hour-long speech sprinkled with self-deprecating pokes at her perfectionist image to a crowd of about 400 in Sanders Theatre March 14. Stewart was this year's Anne Radcliffe Trust speaker. The annual lecture, in its third year, aims to raise awareness of women at Harvard.
"Martha Stewart, it really is 'a good thing' that you're here with us today," said Harvard College Dean Harry Lewis, borrowing Stewart's signature phrase in introducing her. "May your entrepreneurial spirit inspire more women and men to successful futures."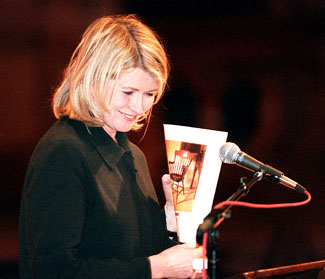 The Radcliffe Pitches, a women's a cappella group, kicked off the event with a trio of old standards, including a version of The Chordettes' "Mr. Sandman" inspired by Stewart's success.
"Oh Mr. Sandman, I want to be … a CEO or a Ph.D.," they sang. Then, "Mr. Sandman, someday I will … replace old Georgie on the one-dollar bill."
Stewart responded by sharing the secret of her success: a fierce curiosity that still drives her today.
When she began the catering business in 1972 that eventually led to Martha Stewart Living Omnimedia, Stewart said she investigated many topics, learning voraciously about landscape design, gardening, and home style.
"I'm driven pretty much by subject matter," Stewart said. "I'll go to Maine and want to know everything about the outdoors. … It's a feast for me now because I can pretty much call [expert] people and learn from them."
That curiosity – and the search for content for her television show – brought her to Harvard a few hours before the lecture to film a segment on the Botanical Galleries' famous Glass Flowers at the Harvard Museum of Natural History.
"They're as beautiful as nature itself," Stewart said. "We were more than satisfied [when they saw the flowers]. We were all standing around in shock this morning."
Stewart, who majored in history and architectural history at Barnard College, said her undergraduate years taught her how to do research. That has stood her in good stead, she said, because accuracy is critical when one has to relay information to readers, viewers, and listeners.
Stewart talked about her own several transformations in life, from a Wall Street stockbroker to the owner of a catering company, to a successful author of how-to books.
Stewart said her latest change has been into a chief executive officer. Martha Stewart Living Omnimedia today is a publicly traded company with $286 million in annual revenue.
"It's what keeps me going, the metamorphosis that happens almost every seven years," Stewart said.
The key to her company's success is its mastery and subsequent use of content, she said. Stewart stressed the power of a single idea, fully developed. Instead of doing a lot of research and then writing a magazine article, Stewart uses that expertise over and over – in the magazine, on television, on radio, and even in retail, selling tools and supplies.
Stewart hinted that the company might soon expand into technology – with a home and home office hook, and possibly travel.
Life shouldn't be all business, however. Stewart said she keeps an eye out for original and fun twists on old themes, such as recipes for finger-shaped cookies for Halloween. Stewart isn't above poking fun at herself, either.
In describing "Turkey 101," an idea centered on creating the perfect Thanksgiving dinner, Stewart took a jab at her perfectionist image, admitting that even she's had a limp, lame Thanksgiving bird – adding after a moment – "at my friend's house."
Fun, she said later, including the ability to laugh at yourself, is an important survival strategy in business.
"A very important part of business is to make fun of yourself," Stewart said. "Because if you don't, someone else will."