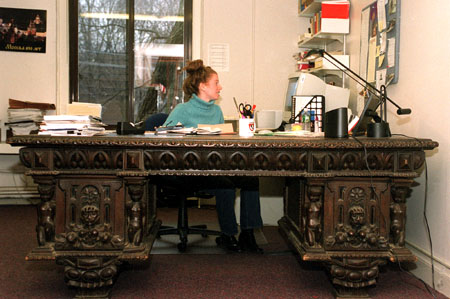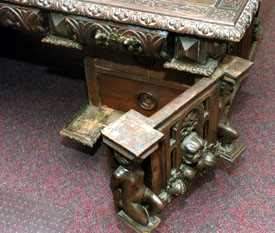 It doesn't have a pull-out keyboard drawer, full-extension hanging files, or a built-in surge protector, but there's probably no other desk like it in all of Harvard.
Willed to the Davis Center for Russian Studies by William Persen '48, Ph.D. '53, who died last July, the desk was acquired by Persen's mother from the Winter Palace in Leningrad around 1927 or 1928. Mrs. Persen bought it, along with some icons and bronzes when the Soviet government was desperate for cash and had begun to sell off artifacts from the Czarist era.
(This was around the same time that American industrialist Thomas Crane acquired a set of bronze bells, or zvon, from a monastery in Russia, donating them to Harvard in 1929. They now hang in the tower of Lowell House.)
William Persen earned his doctorate in Russian history and was on the visiting committee to the Russian Research Center from 1972 to 1978. As the executor of his estate put it, while Persen was devoted to Harvard University, "it was to the Russian Research Center that he felt the most connection and for that reason he wanted the [Davis] Center to inherit his desk."
Elaborately carved in the Gothic revival style of the late 19th century, the desk is believed to have been manufactured in Germany, then brought to Russia where it was used in the Ministry of Education, probably by the minister himself.
It is now the first thing visitors see when they visit the Davis Center on the second floor of 1737 Cambridge St. Melissa Griggs, assistant to Davis Center director Timothy Colton, has the singular honor of sitting behind the desk and says that she finds it "very inspiring." On a pragmatic level, it gives her plenty of room to spread out her work.
"I'm still looking for secret compartments with imperial jewelry hidden inside, but so far I haven't found any," she said.
This desk, which was recently willed to the Davis Center for Russian Studies, was acquired from the Winter Palace in Leningrad around 1927. A hidden compartment is shown below.