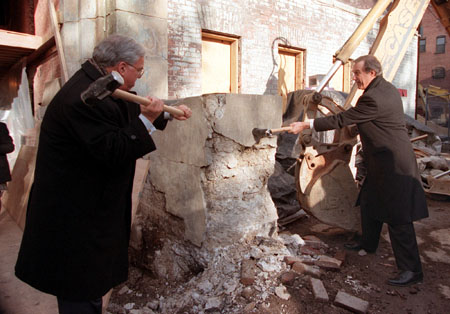 Harvard President Neil L. Rudenstine and Boston Mayor Thomas Menino swung sledgehammers at a concrete wall Tuesday (Feb. 27) to ceremonially mark renovations to create an assisted living facility for Roxbury's poor, frail elderly.
The $5.3 million project, funded partly with dollars from Harvard's 20/20/2000 initiative, has been hailed as a groundbreaking experiment by its backers. It will provide poor elderly not only with housing, but also with assisted living services on a par with far more expensive assisted living facilities. The renovation, at the former Longfellow School at 25 Ruggles St. in Roxbury, will result in 43 studio apartments for elderly city residents whose only other option may be institutionalization. Eighteen of the units will be reserved for homeless elderly.
"This is a special day for us," said Elizabeth Babcock, executive director of the Committee to End Elder Homelessness, one of three partner organizations heading the development. "Remember this. Because we hope this will be the first step in a pattern of change in this country."
Babcock made her comments during a half-hour ceremony that drew about 70 people, including city, state, and university officials, to the basement of what today is essentially a gutted shell.
Without architectural drawings to use as a guide, it might be difficult to envision the modern, safe and comfortable facility project leaders are expecting. The building today, which has been abandoned for some time, is a three-story brick structure, coated with faded white paint and marked by graffiti. After the kickoff sledgehammering, the ceremony took place in the building's basement, in a raw brick room lit by construction lamps.
"Look around you, see our dining room. Look around you, see our solarium," Babcock said, urging attendees to see the place for what it will be when construction ends in September.
The project is possible through a network of partnerships. Heading it is a three-way partnership involving the Committee to End Elder Homelessness, New Communities Services Inc., and New Atlantic Development Corp.
The project's financing is being arranged by the Boston Community Loan Fund, with the help of Harvard's 20/20/2000 dollars, low-income housing tax credits, and government grant money.
Dewitt Jones, president of the Boston Community Loan Fund, praised Harvard's ongoing commitment, through the 20/20/2000 program, to the creation of affordable housing in Boston and Cambridge.
The 20/20/2000 program, announced in November 1999, is a 20-year effort that will provide $20 million in low interest loans to community agencies to support affordable housing in Harvard's host cities of Boston and Cambridge.
The Boston Community Loan Fund received $4 million of the 20/20/2000 funds. A portion of that money, along with dollars from other investors, is being lent to help get the Roxbury project off the ground.
The structure of the 20/20/2000 program allows the Harvard dollars to be used again and again, greatly magnifying the benefit. In the last year alone, Harvard's $4 million investment in the Loan Fund has been used in 14 different projects in Boston and Cambridge.
"With this initiative, Harvard has set a new standard of responsibility for institutions," Jones said. "Over the next 19 years, the [20/20/2000] money will be recycled and re-lent, having a much greater impact than the $4 million [invested]."
Menino also thanked Rudenstine for Harvard's commitment, saying the city needs similar commitments and partnerships to meet residents' needs.
"It's a partnership that makes this happen," Menino said. "This is an area [of the city] where people once said, 'Nothing will ever happen here.' Today is a day of recognition that eventually this will be a place for people to live out their years."
Rudenstine said the University is happy to be part of such an important project. He praised Menino's leadership, that of state officials, and the efforts of nonprofit community development leaders. They're the ones doing the real work on this type of project, Rudenstine said.
"We're just very happy to be able to do whatever we can to help," Rudenstine said.