The mayor was vacillating. The police were posturing. The ACLU was pontificating. And hip-hop star Big X, having been stopped by police for a "tilted license plate" and detained for three hours, said his actual crime was DWB – driving while black. It was a press conference from the front lines of the urban American battlefield, and it was acted out on the stage of the Littauer Penthouse at the Kennedy School by Dorchester high school students.
The mock press conference was the culmination of a day designed to introduce more than 60 students from Dorchester High School to public service career opportunities. The high school's Academy of Public Service has been in partnership with the Kennedy School for eight years, and it was the KSG's Office of Community and Public Service that sponsored the event.
Students showed an impressive combination of theatrical skill and mastery of current events as they tried to work through some of the most complex issues of the day. The results were frustrating and invigorating. And, in the truest sense of the word, educational.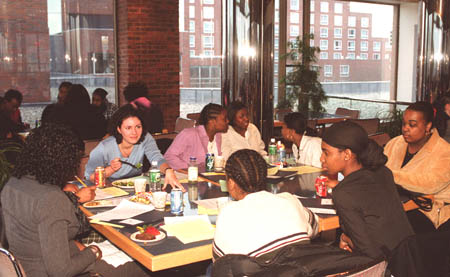 Marta Pernas (facing on the left), KSG MPP program, leads the Dorchester High School "police" before the press conference. When asked why they stop residents just because they are minorities, the "police" said, "it works."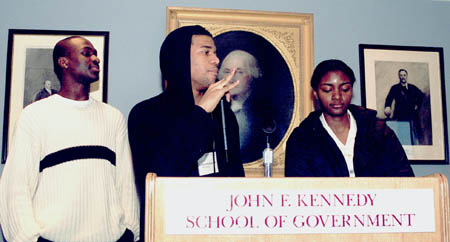 "Rapper Big X," played by Dorchester High's Edward Summerhill, is flanked by his "bodyguard" and "lawyer" at the press conference. Said the hip-hop star, "They saw a brother with a little money in a new 2001 Lexus and they had to pull him over."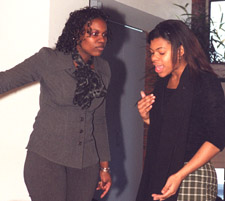 "Arresting cops" – Dorchester students Tanisha McKibben and Rayshawnda Germany – re-enact the arrest scene.
---
Staff photos by Jane Reed
---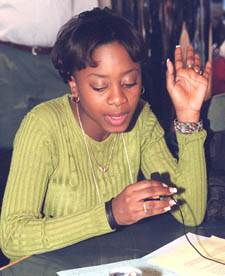 "Journalist," Dorchester student Farah Powl, poses a challenging question during the press conference.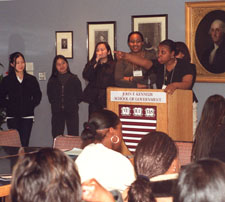 (Right) Dorchester student Nailah Staples, "representing" the ACLU, points an accusatory finger at the police group: "We have to arrest the racism. We plan to move ahead with a lawsuit charging the police department with racism, because when one person's civil rights are violated, everyone's civil rights are threatened."