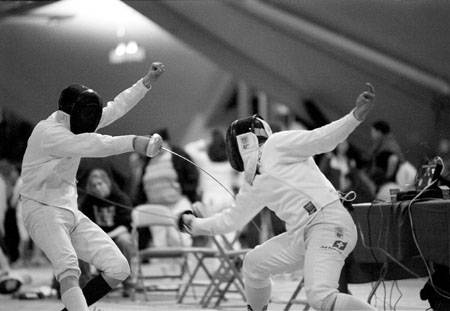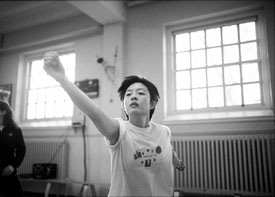 Staff photos by Kris Snibbe

One can't help but be overwhelmed by a sense of tradition when viewing the fencing facilities of Harvard University. Antique masks and weapons adorn the walls, the parquet floors speak of countless bouts, while students practice beneath the gaze of Harvard Fencing's past generations casting their appreciative or critical gaze from portraits and pictures lining the walls. All-Americans, Olympians … this is the legacy of Harvard Fencing.
But a pole-vaulter?
"I came to Harvard to do pole vault," says Amy Bei '03, a member of the women's sabre squad, "but I took a recreation class in fencing because I thought it would be fun."
This focus on fun and camaraderie translates to success, according to the team's enthusiastic head coach Peter Brand. "They're a good group of people, and they're good friends," Brand says. "That's what makes a successful team."
Unlikely as it may seem, Harvard's roster is largely composed of walk-ons, with most current team members arriving at Harvard with little or no fencing experience. Such relative inexperience stands in stark contrast to Ivy League foes such as Columbia and Princeton, which enjoy a wealth of talent drawn from the country's young fencing elite. But the Crimson squad is hardly a pushover.
The team has recently achieved solid results at the Intercollegiate Fencing Association (IFA) Championships, while also qualifying no fewer than four team members to the NCAA Fencing Championships to be held later this month at the University of Wisconsin. Foilists Liz Blase '04, Emily Katz '01, and Tammy Knutsen '01 of the women's epee squad will represent the women, while foilist and team captain Davin Chew '01 will represent the men.
Experiencing such success may lead to lofty aspirations, but with a pole-vaulter in their midst, reaching those heights shouldn't be a problem.