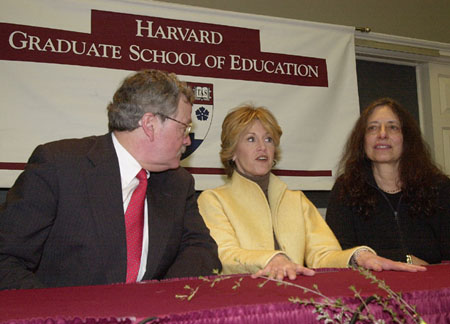 Actress Jane Fonda came to the Harvard Graduate School of Education (GSE) Friday, March 2, to announce her donation of $12.5 million to launch the Harvard Center on Gender and Education. It is the largest gift from a single individual the GSE has ever received.
Fonda appeared at a press conference at Longfellow Hall along with Jerome T. Murphy, Dean of the GSE, and Carol Gilligan, the Patricia Albjerg Graham Professor of Gender Studies. Gilligan's groundbreaking research on gender and human development, spanning the course of 20 years, was the inspiration for Fonda's gift.
"This project is very close to my heart," Fonda said. "It's taken me a very long time to see the impact gender roles have had on my life, and if I, as a privileged, white, aging movie star, have had to wait this long, I can't even imagine what young women who are less fortunate than I am have had to deal with."
Fonda said that the new center will build on three decades of pioneering work by Gilligan on the way gender affects the development of girls and women. Gilligan's research has had an international impact on women's lives, she remarked.
"Many women around the world have been influenced by her work. I have seen her books on their shelves in places like South Africa, Nigeria, and China," Fonda said.
Fonda's gift includes $2.5 million for the creation of an endowed faculty chair to be named for Gilligan on her departure from the Harvard faculty, which will be in June 2002. Gilligan, author of the pioneering study "In a Different Voice: Psychological Theory and Women's Development" (1982), will play an important role in launching the new center and will serve beyond 2002 as honorary chair of an advisory committee to the center. Gilligan's newest book, "The Birth of Pleasure," will be published in 2002.
"I'm grateful to be able to do this for my sister, my friend, Carol Gilligan," Fonda said.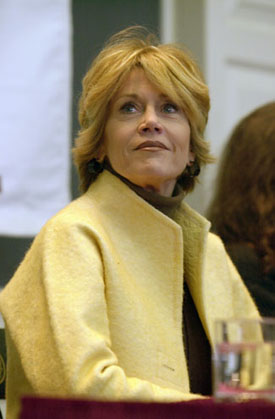 Fonda's interest grew from her involvement in initiatives that emphasize the advancement of girls and women in the United States and developing countries. Her involvement with children has also included running the Laurel Springs Children's Camp on her ranch in Santa Barbara, Calif., a summer program which used performing arts to build self-esteem and cooperation among children of all races and socio-economic backgrounds. More recently, she helped to establish the Performing Arts Program for Youth in Atlanta.
"I recognize the need to bring some of these lessons home," Fonda said. "We still have a culture that teaches girls and boys a distorted view of what it takes to be women and men."
Fonda said she chose Harvard as the recipient of her gift because "when Harvard makes an opening, it becomes a path. What Harvard does reverberates around the world."
Gilligan praised Fonda for "her courage and conviction and passion," and said that for the center to be brought into existence in such a short time was "like a dream. This is so wonderful, it's such an opening, it's so hopeful."
Murphy, in his opening remarks, said, "We are enormously grateful to Jane Fonda for this gift, and enormously proud of Carol Gilligan, whose pioneering work inspired this gift."
He added that when Harvard's chair in gender studies, which Gilligan now occupies, was established three and a half years ago, the creation of a center for gender studies seemed like an impossible dream.
"Thank you, Jane, for making the impossible possible."
The Harvard Center on Gender and Education will be an interdisciplinary research center dedicated to examining education around the world through the lens of gender. Housed at the Harvard Graduate School of Education, the center will draw on the intellectual resources of Harvard University and work closely with faculty who focus on gender from a broad variety of academic perspectives.
Researchers affiliated with the center will seek to understand gender issues affecting the development and education of girls and boys, both domestically and globally. In addition to sponsoring research projects, the center will assist teachers and other educators as they address gender issues in their schools and communities.
The Harvard Center on Gender and Education will build on the work of existing programs at the GSE such as the Gender Studies concentration, initiated by Gilligan, and the Risk and Prevention Program, founded by Professor of Education Robert Selman. The center will also build on the School's tradition of research that explores gender in the context of cultural and social factors such as race, ethnicity, and poverty.