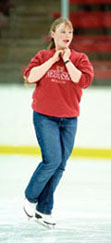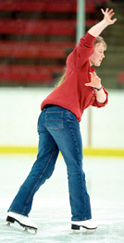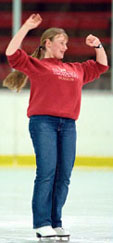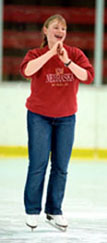 Susan Ashley '03 (right), first-time skater, goes through the "baby steps" of her debut twirl.
Staff photos by Rose Lincoln

During some of the nastier months of a New England winter, junior Amy Chang – the director and instructor of Harvard's recreational ice skating classes – leads a group metamorphosis in the quiet confines of the Bright Hockey Center. From early February through March, this veteran skater of nearly 10 years eases novice students into a comfortable and confident place on the ice, while fostering the balletlike precision and speed of the more seasoned skaters. Not only are the classes varied in their level of skill – they also include a diverse crowd ranging from freshmen to staff. "I like that it's not just undergraduates," Chang says.
Chang, who is also the president of the 1-year-old Harvard Figure Skating Club, a competitive club-sport, has been teaching beginner, intermediate, and advanced classes at the University since her freshman year. And although she's not necessarily producing the next wave of Dorothy Hamills (nor seems to have the desire to do so), Chang cites the classes as her own way "to help people throughout the Harvard community."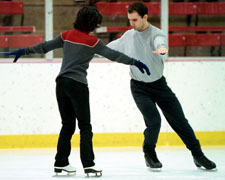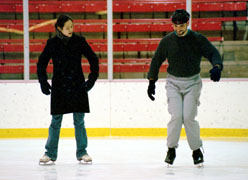 Beginning skater Rosalba Perna (below), a second year junior fellow in astrophysics, learns some of the basics with the help of instructor Mike McGroarty, GSD '01. Goodnaturedly searching for his center of balance is Fuad Akhundov (bottom right) from Azerbaijan. Amy Chang '02 is his instructor.