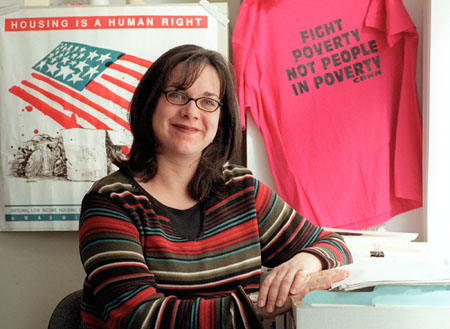 Amy Copperman has put her Harvard Law degree to good use – fighting for fair housing for those who can least afford a lawyer.
It's a career choice she pursued vigorously, leaving her job with a New York nonprofit to attend a prestigious and carefully selected law school.
But it wasn't just academics that made Copperman choose Harvard Law School (HLS). Knowing she'd have to borrow to make it through, Copperman said the HLS's loan forgiveness program helped her with her final decision.
"This really was my goal when I went to law school," Copperman said of her job as a staff attorney for the Massachusetts Law Reform Institute. "I think it would have been extremely difficult, if not impossible, to take this job without this program."
The Law School's Low Income Protection Plan (LIPP) is one of several at Harvard whose aim is to allow students faced with large debt after leaving school to pursue typically low-paying careers in public service.
"We want people to go out and make a difference in the world, and that difference is made in public service," said Brenda White, associate dean for enrollment at the John F. Kennedy School of Government (KSG). "We want people to take jobs in the public sector and those are typically low-paying jobs."
The Kennedy School's program is called the Loan Repayment Assistance Program and has existed since 1987. It helps those who take public sector jobs and whose family income is $35,000 or less.
Harvard Business School's (HBS's) Initiative on Social Enterprise runs a loan forgiveness program for HBS graduates who go to work for nonprofits or the government. Harvard Divinity School has also gotten in on the act recently, announcing a loan avoidance program that may have a forgiveness component, made possible by a $500,000 gift and $1 million in matching funds from the Harvard Corporation. The Divinity School program will finance the final year's tuition for two master's of divinity students and, if any money is available after tuition and fees are taken care of, help repay previously accumulated loans.
Though they don't have programs themselves, Harvard's other schools and colleges recognize the financial burden that rising college tuition places on students. In the cases of graduates from Harvard Medical School (HMS), Harvard School of Public Health (HSPH), and the Graduate School of Education (GSE), outside programs that can help already exist.
In addition, Harvard College recently took steps to lower undergraduate student debt, which is often carried over into graduate school. The College announced this month an $8.3 million increase in undergraduate financial aid. The funds will add $2,000 to the aid received by each scholarship recipient. The effect will be to reduce the "self-help" portion of the financial aid package – the part for which the student is responsible – from $5,150 to $3,150 a year.
Front-end or back-end aid?
Byrne Professor of Administrative Law Todd Rakoff, Dean of the Law School's J.D. program, said the Law School's Low Income Protection Plan is really just another use of financial aid dollars. Instead of providing aid for incoming students based on their parents' income, he said, the program gives it based on the student's earning potential on leaving school.
"It stretches the money further," Rakoff said. "It targets it to those who are going to be most in need when they get out. … It's really a career choice protection plan."
Nick Walsh, who graduated last spring, is taking advantage of that career choice protection. He is in the first year of a two-year clerkship with Federal District Court Judge Morris E. Lasker. Walsh said he eventually wants to become a prosecutor, another relatively low-paying post.
"It's critically important because I couldn't do a clerkship and what I want to do for work without the program," Walsh said.
Walsh, whose clerking salary requires him to share an apartment with a roommate in Somerville, declined to be specific about his loan totals, but described it as "a tremendous amount of debt." Like Copperman, Walsh said the LIPP helped convince him to attend Harvard Law School.
"It wasn't the only reason I decided to go to law school at Harvard, but it was a factor," Walsh said.
The LIPP program has about 238 graduates enrolled and funds anyone who is eligible. The awards are made on a sliding scale for those making less than $72,000. As salary drops, the percentage of the loans the program will repay increases. Those who make $31,000 or less get complete repayment.
LIPP Director Lisa Dealy said the program is essential for the HLS. Average undergraduate debt for incoming students is $12,000, and most leave with debt of $80,000 or higher. Facing repayment of loans that large, Dealy said, it might be impossible for students to take government or public interest jobs, which typically have low salaries, without some financial assistance from the law school.
"With increasing debt burdens, some students feel compelled to go to a corporate law firm, purely for financial reasons, even when it is not the best fit for them career-wise," Dealy said. "Many students come to HLS inclined to work in the public sector or in public interest organizations. We want to ensure that they have that option upon graduating. LIPP allows them to choose their jobs without regard to educational debt."
Different ways to help
Harvard MBAs have many different ways to participate in society, according to Marguerite Dushin, the associate director of HBS' Initiative on Social Enterprise. Though 81 percent of Harvard Business School graduates are involved in the nonprofit sector, most are involved as board members of organizations, rather than running day-to-day operations, she said.
The initiative's loan forgiveness program aims to help those who take a more hands-on approach. It considers variables such as the graduate's salary, the loan amount, the job's commitment to public service, and the fit of job requirements to skills learned at HBS. Like the Law School's LIPP, the program is open to anyone who qualifies. Between 10 and 20 Business School graduates go into the nonprofit sector each year, and a number of them qualify for and receive loan forgiveness.
"I think students are increasingly seeing the nonprofit arena as a place where they can apply their skills and have an impact right away," Dushin said.
Already there
At the Kennedy School, whose mission is to train public sector leaders, most students don't have to be convinced that the public sector is where they want to work. The problem, however, is similar to those at other schools and colleges across the country. As a student's debt level rises, more lucrative private sector jobs beckon.
"There's only so much macaroni and cheese someone can eat," said Michael Goldstein, a 1998 Kennedy School graduate who participated in the KSG loan forgiveness program while setting up the Media and Technology Charter High School for Boston students. "In my case, I had $40,000 in debt. It can easily steer one to taking a job with Arthur Andersen or KPMG to pay down your debt. It's really easy for students to opt out of nonprofit programs."
The Kennedy School's Loan Repayment Assistance Program aims to help the most needy graduates, according to Associate Dean White. White said the program's income levels have been increased repeatedly in recent years. As recently as 1987, graduates making more than $17,800 didn't qualify for the program. That level has risen three times since, to $35,000, but White acknowledges even that level is too low, particularly for someone taking a government job in a big city.
The program does accept everyone who fits the criteria. Last year, 11 graduates joined. Students receive a check twice a year for six months' worth of loan payments. They have to reapply each year, but are eligible as long as they meet the guidelines.
"This is important," White said. "Students should not have to leave school so burdened with debt that they have to change their career focus. To the extent that Harvard can be helpful in that way, we should."