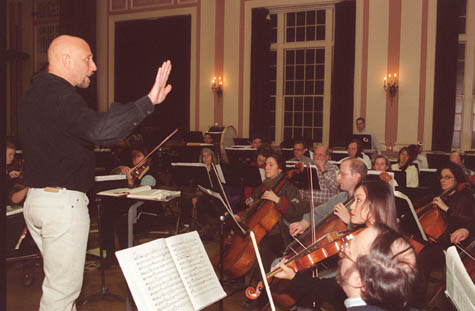 Kristen Ammon has played bass since she was 9 years old. She studied music at Yale University and plays today for the Longwood Symphony Orchestra, which is practicing for its March 10 presentation of Tchaikovsky, Ellington, and Ives.
While music is old hat for her, medicine isn't. Ammon, a third-year student at Harvard Medical School, delivered a baby for the first time last month – eight pounds, one ounce – just before heading off to rehearsal.
Ammon may seem like an extraordinary individual, but the Longwood Symphony Orchestra is full of people just like her. The orchestra was started in 1982 by a few doctors and medical students from the Longwood medical area in Boston. Today, the symphony is still peopled by doctors, students, and researchers who don't want to quit their day job but who are grateful for the chance to play a little music.
"It's definitely nice to have a stress release," Ammon said.
Though its members aren't full-time musicians, they're serious about their music. Many have been playing since childhood and all had to pass an audition before taking their seats in the orchestra.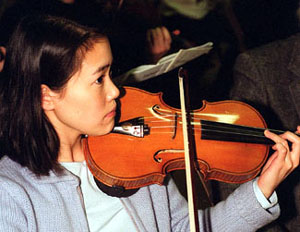 Though music and medicine may seem like a rare combination, Orchestra President Lisa Wong said musicians are actually fairly common at the Longwood area. In a way, she said, music and medicine are similar pursuits, in that one really has to be directed to master either.
"There are really so many musicians in the medical community," said Wong, a violinist and clinical instructor in pediatrics at Harvard Medical School. "A lot of people say that after a day in the operating room, being able to express themselves through an instrument recharges them."
Many members began to play in childhood, making them musicians before physicians, Wong said. Personally, Wong loves the camaraderie and friendships that develop in the orchestra. She also likes being able to help worthy causes through the benefit concerts. Recent concerts have benefited organizations like the New England Hemophilia Association and the Children of Chornobyl Relief Fund.
"I think the orchestra makes us better physicians," Wong said.
Wong's sentiment was echoed by other symphony members. Mark Gebhardt, Ilfield Professor of Orthopedic Surgery at the Medical School, said he's so busy he often doesn't get a chance to practice his clarinet until 10 at night. Though it's tough to fit in his schedule, Gebhardt has been a member of the Orchestra for 15 years.
"I just love music," said Gebhardt. "It adds perspective. It keeps me sane."
The March 10 concert, which will be held at the New England Conservatory's Jordan Hall, will be the orchestra's third of the year. It will feature Harvard College and Harvard Medical School graduate Richard Kogan, a physician and authority on human sexuality, on piano. The concert will benefit the Dimock Community Health Center in Boston. The last concert of the season will be held May 12.
During a recent practice at the Conservatory's ornate but worn Brown Hall, the orchestra worked over Duke Ellington's "The River" at the urging of Music Director Francisco Noya. Unlike most others in the hall, Noya is a professional musician. His day job is resident conductor of the Rhode Island Philharmonic.
Noya took them through the piece, a section at a time, working with different sections of the orchestra until they got it right.
"We're learning a lot," Wong said, adding that members are more familiar with classical music than jazz. "The notes say 'play this swing' and we're clueless."
By the end, familiar or not, Noya and the familiar Ellington sound won out, making even the rehearsal a toe-tapping good time — compliments of your local medical establishment.