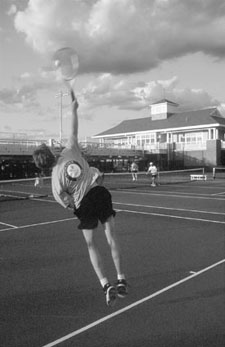 The Tennis Camps at Harvard (TCH), offering adult and junior sessions, will be opening its 11th season on June 11 at the Robert M. Beren Tennis Center at Soldier's Field.
Because many members of the Harvard community were not able to find space in last summer's programs, co-directors Dave Fish '72 (Harvard men's tennis coach) and Gordon Graham (Harvard women's tennis coach) are alerting Harvard affiliates that they can receive a $30/session discount (subject to availability) by having their completed registrations submitted by March 15 (for junior sessions) and April 15 (for adult sessions).
Brochures that provide details for both the junior and adult programs can be obtained by calling the TCH office at (617) 783-2400.
TCH offers classes for children, and young adults, and adult evening classes, both recreational and elite. The adult classes are offered for two or four evenings a week, and are three weeks in length.
"Years ago, many pros taught in a way that turned off adults after only a few classes," said Fish. "Teachers at that time believed that newcomers were best served by being taught classic strokes before they were allowed to play. Unfortunately, it wasn't much fun to learn that way, and players rarely learned to compete effectively."
"Over the last few years," Fish said, "TCH has introduced more of a game-based approach to its sessions, both in the Junior Camp and in the Adult Sessions. People want to have fun and learn to compete, so they can have fun with their friends."
Fish and Graham handpick their staff from college coaches and area professionals, and intercollegiate players from Harvard and elsewhere. Staff members are specifically trained for the age group they work with and in the "game-based" approaches that make the Tennis Camps at Harvard programs distinctive.