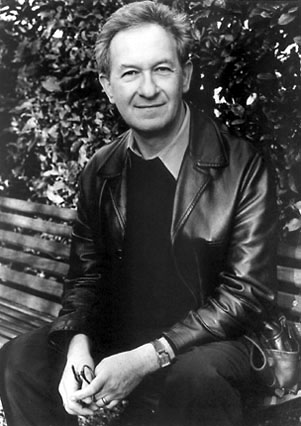 Historian Simon Schama returns to Harvard next week to speak on a subject in which he has established impressive credentials: bringing history to a popular audience.
Schama, who taught at Harvard from 1978 to 1993 and is now University Professor of History and of Art History at Columbia University, will deliver this year's Tanner Lectures on Human Values, Feb. 7, 8, and 9. The title of the series is "Random Access Memory." Lecture one is titled "The Past," and lecture two, "The Future." The lectures will be followed by a seminar in which Schama's ideas will be debated and discussed.
Schama's latest venture in history for nonspecialists is the 16-part BBC series "A History of Britain" and its print tie-in, "A History of Britain: At the Edge of the World, 3500 B.C.–1603 A.D." (Hyperion/Talk Mirimax, 2000). Schama has also done television programs based on his books "Landscape and Memory" (Alfred A. Knopf, 1995) and "Rembrandt's Eyes" (Knopf, 1999).
"I'm going to talk about public history, history for lay people, which is a subject that has an extremely ancient tradition," Schama said in a telephone interview. "However, in the last 100 years, it's seldom been taken care of by academics."
By public history, Schama means not only books aimed at a general audience, but films, television, radio, museum exhibitions, and Web sites as well. He is one of the few history professors to offer instruction in these areas.
At Columbia, Schama teaches a graduate course called "History Beyond the Academy." In lieu of academic papers, students hand in film and radio scripts, textbook chapters, and proposals for trade books and museum exhibitions.
"For a final paper they write a 30-page story about a historical event. It all has to be true, but they're not allowed to use footnotes," Schama said.
He also teaches an undergraduate course called "Reading and Writing Narrative History," in which students deal with such issues as how to create a historical voice.
In Schama's second lecture, he plans to discuss public history from a practitioner's point of view and will show excerpts from some of the television programs he has done.
"There's no reason why historians shouldn't do what they are already doing – be interviewed by filmmakers like Ken Burns and appear as talking heads, but it's also possible with a modicum of training to make films yourself. I've become involved in all aspects of filmmaking, from writing scripts to editing and cinematography."
Schama said that films are worth doing because they have the potential to reach and educate an enormous audience. His series on the history of Britain, for example, has had an audience of about 5 million each week, significant in a country of 50 million.
The extent of television's influence was brought home to him when he conducted an online chat with viewers on the BBC Web site. The results surprised him.
"It's been a very democratic experience. I got comments from everybody from students to retired brigadiers to 8-year-olds. It put me in contact with a very large learning community."
Asked what it was in his own background that motivated him to address a more general audience, Schama mentioned his experience as a student at Cambridge University.
"I had the dumb luck of having a collection of professors at Cambridge, all of whom had done journalism before going into academia."
Schama said he remembered the first time he wrote an article for a popular magazine. "One of my professors, the historian J.H. Plumb, said, 'This will be the hardest thing you've ever done' – and it was."
According to Schama, the art of telling an effective story is indeed difficult, but it is not, as some people assert, a skill one must be born with.
"Some people say you either have it or you don't, but there are lots of things you can learn about storytelling."
Schama's books include: "Patriots and Liberators: Revolution in the Netherlands" (Knopf, 1977); "The Embarrassment of Riches: An Interpretation of Dutch Culture in the Golden Age" (Knopf, 1987); "Citizens: A Chronicle of the French Revolution" (Knopf, 1989); "Dead Certainties: Unwarranted Speculations" (Knopf, 1991); "Landscape and Memory" (Knopf, 1995); and "Rembrandt's Eyes" (Knopf, 1999). From 1995 to 1998 he was art critic and cultural essayist for The New Yorker magazine.
Schama's first two lectures will take place from 5 to 6:30 p.m. on Feb. 7 and 8 at Lowell Lecture Hall. On Friday from 10 a.m. to noon, Schama will participate in a seminar on the fifth floor Taubman Conference Center at the Kennedy School of Government. All events are free and open to the public.
The Tanner Lectures on Human Values is a nonprofit corporation administered at the University of Utah. It is funded by an endowment and other gifts received by the University of Utah from Obert Clark Tanner and Grace Adams Tanner.
At the request of a founding trustee of the Tanner Lectures on Human Values, these lectures are dedicated to the memory of Clarence Irving Lewis '06, Ph.D. '10, who served on the Faculty of Arts and Sciences from 1920 to 1953.
Administered jointly by the Office of the President and the University Center for Ethics and the Professions, the series is designed to advance scholarly and scientific learning in the field of human values, and the purpose embraces the entire range of moral, artistic, intellectual, and spiritual values, both individual and social.