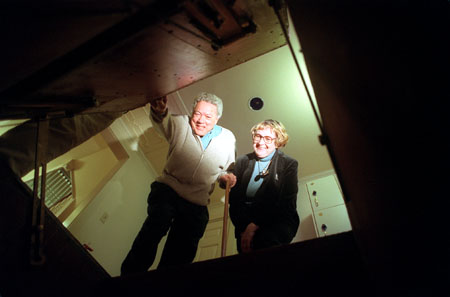 ---
Staff photos by Kris Snibbe
---
Lifting the heavy wooden trap door and peering down into the dark, dusty "secret room" beneath the floorboards at the top of the stairs, Larry Hall appears entranced. It's as if he can feel the ghosts of his hidden past, shrouded beneath a veil of silence for generations and now exposed for all the world to see.
Historical documents indicate the secret room in Harvard's Warren House was used as a hiding place for runaway slaves in the years before and during the Civil War, serving as a refuge like many others in the so-called safe houses established along the Underground Railroad that shuttled escapees north toward freedom.
Both of Hall's great-grandfathers survived the arduous journey to Canada. One of them, he believes, may have stopped in Warren House along the way.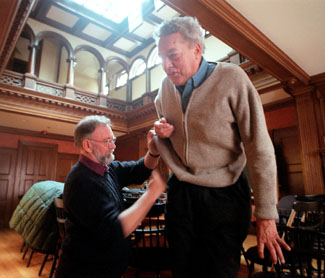 Now, Hall is making a personal journey to retrace his great grandfathers' routes, to learn how they persevered, and to reveal an important part of his family history that was kept quiet all these years. Hall's odyssey is being filmed by a Toronto production company, which will produce a documentary about his story for a program titled "Going Home" on the Canadian History Channel.
"There is a triumph of the human spirit here," Hall says as he discusses his motives behind the effort. "We are taking a subject matter that everybody tried to draw the curtain down on. We're raising the curtain back up."
Larry Hall is a retired broadcaster and third-term city counselor in Port Hope, Ont. He was raised as a white boy in a white community. And he never knew otherwise, he says, until he started asking questions as a teenager. That's when he first learned the truth, or part of it.
Nobody in the family wanted to share the whole truth, he says. "The older generation brought down a curtain [on the family history] because there was a belief in my family that being black was to be hurt. Therefore they … said nothing about it, and watched as their children assimilated into the general population."
Hall grew more curious about his family history after he retired eight years ago. That's when he began researching his genealogy. What he learned has brought this "white" man closer to his black roots, and has bridged the gap between two distinct branches of the family tree – one in Canada and the other in the United States.
"They were completely apart until I began to conduct my investigation," Hall explains. "When I found the American relatives in Buffalo it seemed to draw everyone together. It seemed almost like everyone was ready to accept this part of our history, and since then we've had the most wonderful gatherings of the American group coming together with the Canadian group."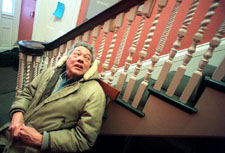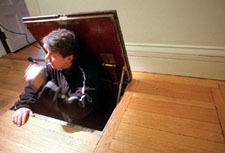 Larry Hall spent an afternoon inside Warren House on the Harvard campus, where his great-grandfather might have hidden during his flight from slavery. Film crew member Michael Savole lifts a trapdoor in preparation for filming inside the hidden room.
One of Hall's great-grandfathers, Charles Williams, is buried in Montreal, the city where he settled after escaping from Maryland via Massachusetts in the 1830s or '40s. Along the way Williams spent some time in Boston-area safe houses, under the protection of abolitionists, one of whom, Harvard Latin professor Charles Beck, was the original owner of the Warren House.
The distinguished two-and-a-half-story yellow clapboard Greek Revival home was built in 1833 in a parklike setting east of Harvard Yard. Its most curious feature is the small trapdoor, disguised as just another panel in a second-floor hallway, which leads to a secret 4-foot-square room big enough to hide half a dozen slaves from zealous bounty hunters.
"The abolitionist movement must have been solidly entrenched at that time and supported by some very substantial people," Hall says, "because the man who built the house and had that hiding place installed was a man of some substance, a man who obviously had standing in this community. It appears that a great many prominent people in Boston were abolitionists."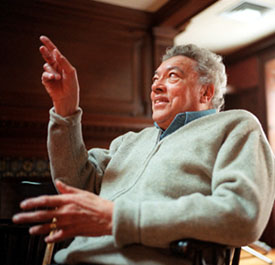 It's believed Beck harbored a number of runaway slaves in his home throughout the years. They apparently lived in the basement, which was uncovered by workers in the 1940s, and was still adorned with old draperies and musty carpets, and furnished with a metal bed and a smaller dresser with a photograph of a cow on it. The secret passageway became a playground for students and was later sealed off.
The home's second owner, Henry Clarke Warren (A.B. 1879), donated the house to Harvard University in 1899. A year later it was moved slightly to accommodate construction of the Harvard Union. The building was fully refurbished in the 1960s and now serves as office space for the faculty and staff of Celtic languages and literatures, folklore and mythology, and women's studies.
Other Boston-area landmarks also served as backdrops for the filming of Hall's story, including the Massachusetts Historical Society, the Hayden House (another safe house in Boston), and the African Meeting House. At each stop, Hall was able to assemble another piece of the family puzzle, a puzzle filled with grief and perseverance, determination and despair, sacrifice and survival.
"This is Larry's journey," says project director Halya Kuchmij. "It's his journey to find his great-grandfathers and in the process find himself. It's a spiritual journey and an emotional journey and a journey of discovery. It's not only about him following the footsteps of his great-grandfathers, but it's about him coming home – his own history, his own heritage, and where he fits in all of this."
As Larry Hall reflects on his own deeply personal journey uncovering his family's once hidden past, he sometimes falls silent. It is then left to his wife, Evelyn, who has stood steadfast at her husband's side throughout this remarkable trek, to voice the sentiments they both feel.
"It's really quite sad in some ways," she says. "I'm glad we've had the opportunity to do this, but there are times it brings you to tears because you understand how desperate these people were. However, we want to pass this history on to our children and grandchildren so they have an idea where they came from."
Contact Doug Gavel at doug_gavel@harvard.edu