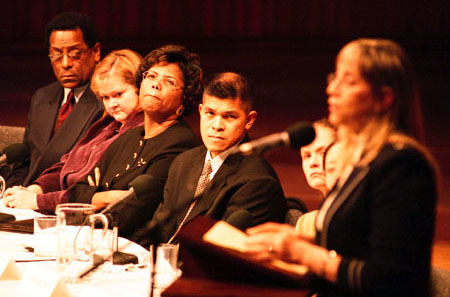 Their faces showed the numbing blows of still-recent loss.
There was Judy Shepard, whose son, Matthew, was beaten, tied to a fence, and left to die in October 1998; Sherialyn Byrdsong, whose husband, Ricky, was shot through the aorta while taking a walk with his children in July 1999; and Ismael Ileto whose brother, Joseph, a postal worker, was gunned down in August 1999.
They were three ordinary Americans whose grieving might have taken place in privacy, except for one thing – in all three cases, the deceased was the victim of a notorious hate crime.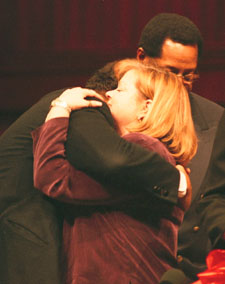 Shepard, Byrdsong, and Ileto took part in a panel discussion Feb. 14 in Sanders Theatre titled "Families of Victims and Social Advocacy: How Can We Address and Deal with Hate Crimes?" The discussion was part of a series of events sponsored jointly by the Harvard Foundation and the Memorial Church.
They were joined on the panel by Nancy Parris-Moskowitz, director of the North Valley Jewish Center in Grenada Hills, Calif., where white supremacist Buford Furrow opened fire, wounding one adult and four children, before taking to the streets where he shot and killed Ileto.
The discussion was moderated by Allen Counter, director of the Harvard Foundation and associate professor of neurology. K. Anthony Appiah, the Charles H. Carswell Professor of Afro-American Studies and of Philosophy, gave an introductory talk. Seniors Jennifer Darrah and Serreyu Wong also took part.
"Matthew was just an ordinary young man who happened to be gay," said Judy Shepard. "He was small in stature. He could argue you right down into the ground. He had a learning problem and some self-esteem issues. He loved theater, movies, conversation. He was good at languages and learned to swear in all of them. He was very empathetic. He wanted to study political science and languages and do something to help people in the Third World."
Shepard, 21, a freshman at the University of Wyoming, was taken to a deserted area by Russell Henderson, 21, and Aaron McKinney, 22. The two pistol-whipped him and tied him to a fence, where he remained for 18 hours in near-freezing temperatures. He was finally rescued but died five days later in the Poudre Valley Hospital.
"Do I blame the young men who murdered my son?" Shepard asked. "Not entirely. I blame society because it gave them permission to do what they did. They thought of Matthew as subhuman, as someone who wouldn't be missed."
Sherialyn Byrdsong's husband, Ricky, a black former coach of the Northwestern University basketball team, was killed in a drive-by shooting by Benjamin Nathaniel Smith, 21, whom neighbors described as "a one-man hate squad."
A member of the white supremacist World Church of the Creator, Smith killed Byrdsong as part of a shooting spree in which he shot at nearly two dozen people – all black, Jewish, or of Asian descent – killing two and wounding as many as nine. He finally shot and killed himself while being chased by police.
"I was living the American dream, truly," said Byrdsong. "I was married to a good husband, approaching 20 years of marriage. I had three young, happy children. We lived in a four-bedroom house in a nice suburban neighborhood. But on July 2, 1999, my American dream became the American nightmare."
While other members of the panel advocated passing comprehensive anti-hate crime legislation as a way of sending a message that society will no long tolerate such actions, Byrdsong expressed doubt that legal means alone would solve the problem.
"I still feel that my husband's death was a clarion call to our nation to wake up, that it's time to start paying attention to God's word. This country was founded on biblical principles, but we're becoming more humanistic and world-centered. We no longer trust in God, and this is where it has brought us. This is not a gun problem, it's a heart problem."
Ileto, who is Filipino-American, began his talk on a welcome note of levity.
"Happy Valentine's Day," he said to the audience. "You're either single, or you're very serious about this issue for being here."
Ileto went on to describe how he watched the television coverage of the shooting at the North Valley Jewish Center on Aug. 10, 1999, and the killing of a postal worker without it crossing his mind that the tragedy had anything to do with him.
Even when he got a call that it was his brother who had been killed, his first impulse was to deny that it was true. The shock of this event was heightened by the fact that his father had died of a heart attack only two months earlier.
"Having to break the news to my mother was one of the toughest things I ever had to do."
Ileto described his brother as a shy single man, a tournament-level chess player, whose greatest enjoyment was helping others.
"He was the backbone of our family. I kept asking myself, 'Why would anyone want to harm my brother?'"
That note of bafflement in the face of random, hate-inspired violence permeated the words of each speaker. None of them could explain the actions of the assailants who had robbed them of their loved one, but each had distinct ideas about the most effective way to respond.
Shepard said that she and her husband had made a conscious decision not to hate or even to feel anger toward the two men who had killed their son.
"It's not American to hate. We should be embracing our differences. Why do we search for things that separate us from each other? If we practiced inclusion rather than exclusion, the world would be so much better. We can accomplish great things if we don't allow ourselves to go down into darkness."
For Byrdsong, the answer lies in a return to God.
"I suggest that God has offered us some hope if only we will welcome Him back into our schools, our homes, and our governments."
She made the prediction that some day, when we stand before God, "We will see that this whole race thing is just 'Much Ado About Nothing.'"
Ileto urged the audience to play a proactive role in the struggle against hatred and violence.
"There are different ways of fighting hate, through the monitoring of hate Web sites, through gun control, but the most important thing is that every human being must be treated with respect. Don't just sit here and listen to us – get involved."
He ended by quoting a remark by Albert Einstein.
"The world is a dangerous place to live in, not because of the people that are evil, but because of the people who won't do anything about it."