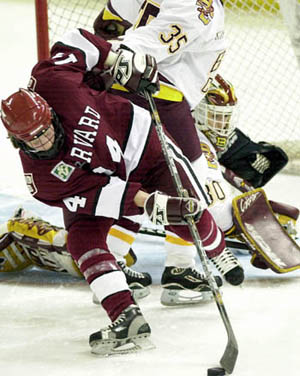 Senior Tammy Shewchuk and sophmore Kalen Ingram each registered a hat trick as the Harvard women's hockey team defeated Boston College 8-1 in the first round of the 23rd annual Women's Beanpot Tournament held at Boston College this past Tuesday night.
Junior linemate Jennifer Botterill, who notched two goals and three assists (amassing her 100th career assist in the process), opened the scoring in the first period off a pass from Ingram, wristing a shot past Eagle goalie Sharon Van Tuyl.
Less than a minute later, Shewchuk scored her first goal to make it 2-0. With 2:47 left in the opening period, Shewchuk clicked with the second of her three goals, slipping a back hander past Van Tuyl and lifting the Crimson to a 3-0 lead.
The score was 4-0 by the end of the first, as Ingram set up Botterill with a pass from behind the goal. In the second period, Shewchuk completed her hat trick with a forehand to the back of the net.
The lone Eagle goal came on a power play in the second period when a pass deflected off goalie Alison Kuusisto's skate into the net.
In the third period, a Shewchuk feed to Ingram set up Harvard's final goal of the game.
Harvard, ranked No. 5 in the nation, outshot the Eagles 57-6. The Crimson improve to 14-6 overall and 13-2 in the ECAC. Harvard will try to win their third straight Beanpot title, facing off against the Northeastern Huskies next Tuesday, Feb. 13, at 8 p.m., at B.C.'s Conte Forum.