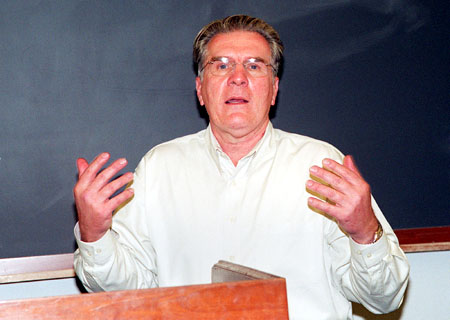 The sports world is an unusual arena where cultural heroes are born, where the bonds between teammates are strongly forged and, often, where gay athletes face their biggest challenge, according to panelists discussing the subject Sunday.
The panel discussion on the challenges of gays in sports drew a standing-room-only crowd to Harvard Hall. The event, sponsored by the student group Bond, featured three openly gay members of the Harvard community: two student athletes and a coach.
The three were joined by David Kopay, an NFL running back with five teams from 1962 to 1972. In 1975, Kopay became the first athlete from a major professional team sport to acknowledge that he is gay. Also on the panel was Denver Post columnist and former Denver Broncos running back Reggie Rivers, who in October 2000 wrote a column equating prejudice against homosexuals with racism.
The five painted a picture of a high-stakes world – in either varsity intercollegiate sports or professional sports – where the opportunities are so limited that homosexuals are often reluctant to openly discuss their sexuality for fear of being ostracized by teammates.
That world is changing, albeit slowly. The Harvard panelists, Kate Callaghan, a sophomore water polo player, Mike Crosby, a junior water polo player, and women's softball coach Jennifer Allard, said that despite their own fears about coming out, their experiences have been largely positive.
"It was a nonissue. No one has treated me any differently," said Crosby, who told his team about his homosexuality last spring.
Callaghan, who used upcoming publicity about the panel discussion as a goad to force herself to talk about her sexuality with teammates, said it has been a relief. She feels more relaxed and the season, just a few weeks old, is more fun because she doesn't feel she has to watch what she says or pretend to be something she isn't, she said.
Callaghan and Crosby said their teams were essentially the last to know. Both had already told close friends and family about their sexuality, but had put off telling teammates. Ultimately, both decided that because so few gay athletes have come out it was important they did.
Event organizer Clifford Davidson, a junior, said he was happy with the turnout. So many of society's role models are sports figures, he said, that it's important that we see them for who they are, gay or straight.
Davidson said he wasn't using the event to send a particular message about life at Harvard. He cautioned, however, that despite the good experiences of panelists and the University's nondiscrimination policy, private instances of homophobia or discrimination still happen.
"Their good stories don't preclude bad ones," Davidson said.
Tom Elke '00, who was water polo team captain last spring when Crosby came out, said during a question-and-answer session that Crosby's openness has had a positive effect, especially on team members who had said they disliked homosexuals.
"There was no way they could keep up their beliefs," Elke said. "The team, both collectively and individually, became better human beings because of what Mike did."
Allard, in response to questions about the administration's reaction to her sexuality said she has been surprised at how well accepted she has been at Harvard since she came out.
"I was actually quite shocked at how much support I've gotten," Allard said. "I was never raised that this was okay. I have people in my family who aren't okay with it."
That support inside Harvard isn't always mirrored in the outside world – and is a rarity in big-time team sports. The panel discussed several aspects of the problem, from the machismo of an NFL locker room to homophobia expressed on conservative talk radio shows.
Part of the problem, according to Rivers, is that it is acceptable for people – from political leaders to church leaders to private individuals – to openly disparage homosexuals. Gays are just the latest group that our society has deemed it okay to hate, he said.
"We could take out the word 'gay' put in the word 'black' and we'd be having the same conversation we were having in the 1950s," Rivers said.
Though there's a long way to go, progress has been made. Kopay said one NFL coach told him that if a major player announced today that he was gay it would probably be a big story for several days and then die down. Kopay also said it was a sign of progress that the NBA fined Philadelphia 76ers guard Allen Iverson $5,000 this month for calling a tormenting fan a "faggot."
Kopay said it's important that gay athletes are open in order to make further progress. Only by being open can people begin to dispel the myths surrounding gays in sports and all arenas.
"It's so important that we're visible and we're out there and people know we're just like anyone else," Kopay said.