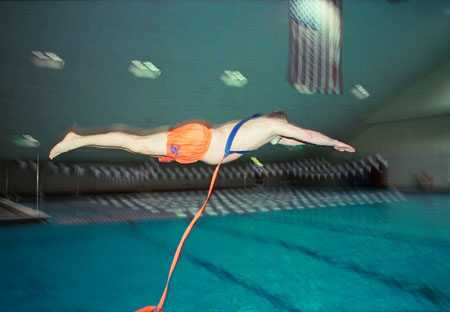 Photo by Kris Snibbe
"I take my diet tips from the big animals … the lions, the tigers, the polar bears, the leopards. What I see them eat, I eat. They look pretty strong to me." For Blodgett Pool head lifeguard George MacMasters, physical and mental strength have always been key.
He's been poolside at Harvard for about seven years, saving lives and training other guards; but the aquatic adventures in MacMasters' past are the stuff dreams are made on – or nightmares. That depends on whether MacMasters is talking about 1993 or 1994.
"One of the biggest things was the cold, how really cold the water was. And a little bit of the fear [that] morning … I was surprised at how an event like that could instill fear right into your heart," says MacMasters of the day he began his second 21.5 mile cross-current swim across the English Channel.
He had attempted the same feat the year before:
"I got halfway and I was stuck in a storm where there were 12- and 15-foot whitecaps. Really wild, wild weather. I swam for five hours in that but I was just so annihilated physically from being twisted and swept under the boat. I could see the whole boat coming down on top of me." That 1993 storm forced MacMasters out of the water. "I knew there was a legitimate reason I didn't make it across, but still it was a failure." After all, this is a man whose heroes include lions and polar bears. So MacMasters did what any flippered superhero would.
He dove back into the icy channel for a second try in 1994:
"So now I'm halfway across the channel on my second attempt and I felt really strong all the way to this point. But now the winds are picking up and I thought … 'Oh no not again.' But this time I had trained in even more fierce conditions so I didn't care. I says, 'Let the winds blow!' So now I can see the beach, but I can't swim straight into it because of the current, so I have to angle in. And my crew is trying to encourage me and saying 'oh it's only another mile.' But there's miles to go and I knew that. So I just put my head down and kept swimming, and finally my feet hit the clay bottom of France."
Today the 43-year-old Dorchester native patrols Blodgett pool with the same intensity that carried him from England to France. "My primary concern is the safety of the patrons and swimmers here in the pool," he explains. "I've seen that look on people's faces a number of times, dozens of times. Panic and fear where you know something is wrong, so then it's automatic. You leap right in and the training comes in. It's second nature and it's fun!" Second nature? Maybe for lions, tigers, polar bears, and MacMasters.
Ideas for a Big Picture subject? Send them to thebigpicture@harvard.edu