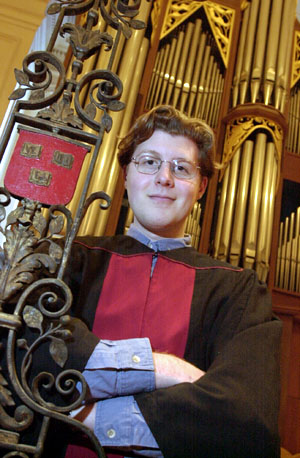 "It's my absolute favorite thing to do in the world. When you're singing with good technique, it's an entirely engrossing experience. The sound fills your chest, your head, your ears. You can feel the paper vibrating in your hand. You can even feel the wood of the pews vibrating."
Billett's low bass can be heard vibrating the pews of the Memorial Church every day at morning prayers, and generally shaking things up at other venues as well. But starting next September that same voice will be ascending toward the beautiful fan vaulting of King's College Chapel, Cambridge, joined in harmony with what is commonly considered the finest choir in the world.
Billett has been accepted as a choral scholar at King's College, a highly sought-after position for advanced students of choral music. He will be singing in regular services at the Chapel including the famous Festival of Nine Lessons and Carols broadcast live by the BBC on Christmas Eve, as well as participating in the choir's extensive concert and recording schedule.
According to Murray Forbes Somerville, University Organist and Choirmaster in the Memorial Church, Billett is the first graduate of an American university to be so honored.
"We're very proud of him," Somerville said. "He's worked very hard for this. We're also proud of him because it's a validation of the musical training we provide. It's very gratifying to know that this is the kind of student we have in the University Choir."
Billett's path to this pinnacle has not been a straight one. Before his voice changed, he couldn't even carry a tune.
"I've been told it was because as a child I hadn't discovered my head voice, but then after my voice changed I found that I had this tremendous depth. I had a friend who was also a bass and we used to sing hymns an octave lower than everybody else. It sounds terrible, actually, but it was fun."
Billett grew up in Prescott, a small town in Ontario, Canada, on the St. Lawrence River. There was music in his home, but on a modest scale. His father played bass guitar and drums in a rock band in high school, later contributing his talents to a church worship group. Billett's three younger siblings, two brothers and a sister, are all musically talented and often sing together, although Billett is the only one, so far, to move toward music as a career.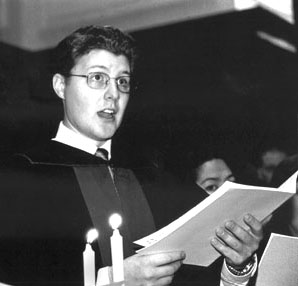 He credits his grandfather, a first-generation Scottish Canadian, with bringing out his interest in more traditional musical forms. He gave Billett a set of bagpipes when he was 8 years old and paid for lessons. Billett later played with the Spencerville Legion Pipe Band and still dons kilt and sporran to play on special occasions.
It was in high school that Billett really discovered his love of music, singing with various choral groups and performing in musical theater. But when he came to Harvard, his plan was to concentrate in math, not music.
"My first year I realized that I had more aptitude for music than I did for math, and I also realized that school would be a lot more fun if I could study music instead of just perform it. But still it was very scary to make the switch."
In addition to singing with the University Choir, Billett has also sung opera, performed Renaissance music with the Dudley Consort, and has been a regular member (and music director two years in a row) of the a cappella singing group, the Din & Tonics. It was while touring England with the Dins that he first became acquainted with the King's College Choir.
"I'd been told that the King's College Choir was the choir, the most renowned in the world. I went to hear evensong in the chapel, and it just blew me away."
The next day, Billett wrote Somerville a postcard describing his experience and asking whether he could transfer to Cambridge University.
"I meant it as a joke, but when I got back he said, 'Maybe you should think about this.'"
Somerville remembers the incident as well.
"I asked him how serious he was about that question, and I said, if you are serious, then you and I have some work to do."
He had no doubts about Billett's voice. "I could hear there was a real quality in that voice," Somerville said.
But he did think Billett needed to hone his sight-reading skills and urged him to join the group that sings every day at 8:45 a.m. for morning prayers.
Singing with this group is challenging because there are only a bare 20 minutes to rehearse. Singers must not only sight-read music that in many cases they have never encountered before but deal with texts in French, German, Italian, and Latin.
"It's an experience I don't think you get in any other musical group," Billett said. "I love sight reading now. It's very exciting. You have to push yourself both mentally and physically. It's like sports."
After two years of performing with the morning choir, Billett was ready. Somerville arranged for him to audition at King's College when his next tour with the Dins brought him to England. He impressed the judges with his singing ability, but had to follow that up with tests in keyboard harmony, theory, musical history, and other academic subjects. When it was all over, Billett had made the team.
He will be singing in a group with a truly venerable history. The chapel itself, one of the glories of late Gothic architecture, was begun in 1446 by Henry VI. Construction was interrupted by the War of the Roses, then completed in 1547 by Henry VIII. The exquisite fan vaulting has been described as "the noblest stone ceiling in existence."
Comprising men and boys (the boys receive their education in the college's residential Choir School), the choir has toured extensively and made numerous recordings, both by itself and with some of the world's best-known orchestras. The prestigious nature of the organization he is joining has helped to allay some of Billett's fears about the wisdom of devoting himself to a career in music.
"I realize not everyone gets to do this. It's a fabulous opportunity. I feel there will be doors that will open up for me as a result."
Meanwhile, he is looking forward to soaking up as much musical knowledge and experience as he can. In addition to singing in the choir, he will also be a full-time student, working toward either an M.Phil. degree or a second B.A., a choice he has yet to finalize.
"Either way, I think it's going to be wonderful. I'm thrilled. It's going to be an adventure."