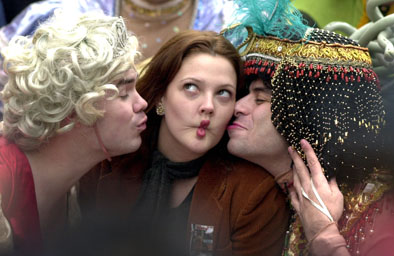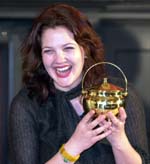 Flashing an infectious grin and displaying a gracious humility, 25-year-old actress Drew Barrymore charmed her Harvard hosts on Thursday during festivities honoring her as Hasty Pudding's 51st Woman of the Year.
The charismatic performer, who first rose to stardom as a young girl in Steven Spielberg's "E.T.: The Extraterrestrial," and later appeared in a string of box office hits, including the recently released "Charlie's Angels," accepted the troupe's traditional pudding pot during a lively afternoon roast at the Pudding Theatre.
"When I was 13 and dropping out of school and really at a very scary place in my life, I never thought that Harvard would call and say 'Come on down. We want to celebrate your life,'" she told the overflow audience. "It's pretty crazy. I can't believe I'm here. It's really wild and I'm really honored that it's me."
The roast capped off a busy day for Barrymore, which began with a morning tour of the Yard, led by student actors Stefan Atkinson '03 and Clay Petre '01, and culminated with a raucous parade down Massachusetts Avenue. Hundreds of people – students, staff members, and local residents – lined the streets to catch a glimpse of the celebrity, who rode aboard a silver BMW surrounded by mock security guards in dark glasses and a dozen flamboyant Pudding members dressed in colorful drag outfits.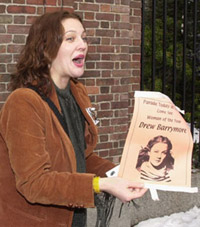 "I'd never been to a parade before, let alone been in a parade," she told reporters later. "I would really like to do it all over again, and I think I would be better the second time. I felt so shy and excited that I was a little more introverted than I usually am – just in awe of the whole thing. The next time I think I'd like to just dance on top of the car the entire time!"
As it was, Barrymore seemed to revel in the attention, laughing and waving at the crowds, and even signing autographs throughout the day. At one point, the playful actress grabbed a placard of herself off the walls outside the Yard for a souvenir before ducking inside a limousine for the ride to lunch.
"Is this what college is like?" she asked facetiously following an impressive song and dance routine performed by the Harvard Krokodiloes a cappella group in front of the John Harvard statue at University Hall.