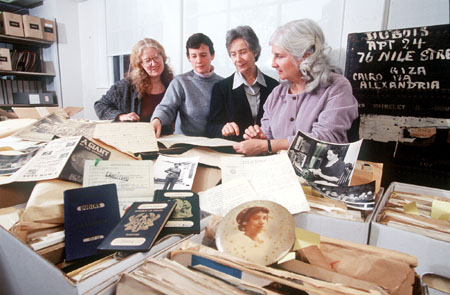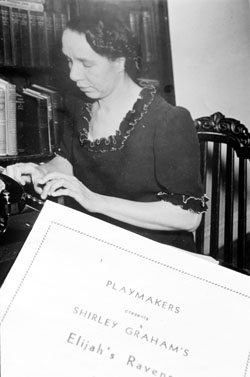 The W.E.B. Du Bois Institute for Afro-American Research and the Arthur and Elizabeth Schlesinger Library on the History of Women in America have acquired the papers of Shirley Graham Du Bois (1896-1977). An influential artist and activist, Graham Du Bois was the second wife of the renowned African-American intellectual leader W.E.B. Du Bois. The collection includes Graham Du Bois's personal correspondence, private papers, professional work, and photographs. It documents her dynamic and diverse life – as composer, playwright, biographer, teacher, civil rights champion, proto-feminist, American Communist Party member, participant in the African liberation struggles, proponent of Maoist China, and longtime friend, then beloved spouse of W.E.B. Du Bois during his last 12 years. Purchased by an anonymous donor for the Du Bois Institute and the Radcliffe Institute for Advanced Study, the Shirley Graham Du Bois collection will be housed at the Schlesinger Library at Radcliffe.
"I am delighted that the Schlesinger Library … is acquiring my mother's papers. It is where the record of so rich, so varied, and so committed a life should be," said David Graham Du Bois, a professor at the University of Massachusetts, Amherst, and a nonresident fellow at the Du Bois Institute. "I am confident the Schlesinger Library, the Radcliffe Institute for Advanced Study, and Harvard University will treat the collection with the respect it deserves, widely promote its value and its significance, and guarantee its access to scholars and others in pursuit of the role of black women in the making of America."
Graham Du Bois' collected papers focus a new and dramatic lens on 20th century African-American experience. As a Harlem Renaissance artist, NAACP worker, and political exile, Shirley Graham Du Bois participated in – and personified – some of the most significant cultural and social movements of our time. During her life, she was celebrated for her artistic achievements, including her 1932 creation of the first opera by an African American about African Americans; and she was criticized for some of her political stances, including her 1960s decision to renounce her American citizenship in order to become a citizen of then pro-Communist Ghana.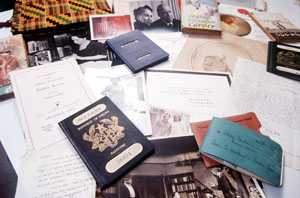 "Shirley Graham Du Bois was a prominent scholar and public intellectual whose considerable talents and contributions are only just emerging, overshadowed as they were by those of Dr. Du Bois," said Henry Louis Gates Jr., the W.E.B. Du Bois Professor of the Humanities, chair of Afro-American Studies, and director of the W.E.B. Du Bois Institute at Harvard. "This treasure trove of manuscripts and letters will intrigue scholars for generations to come and help us at long last to appreciate Mrs. Graham Du Bois in her own right.
"Other than the acquisition of Dr. Du Bois' papers themselves, I can think of nothing more appropriate than the acquisition of the papers of Shirley Graham Du Bois," Professor Gates continued. "And the Schlesinger is the perfect site in which they should be housed. … I think it's significant that the first papers obtained under Drew Faust's tenure as Dean of the Radcliffe Institute for Advanced Study are those of an African-American woman."
"We are thrilled to have the papers of Shirley Graham Du Bois at Radcliffe," said Drew Gilpin Faust, founding Dean of the Radcliffe Institute for Advanced Study. "It is a privilege for us at Radcliffe to be able to cooperate with the Du Bois Institute in making the papers of this extraordinary woman available to researchers."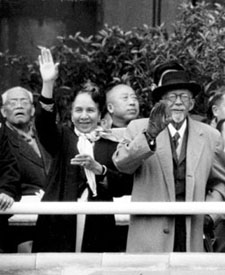 "It was exhilarating to see the trunk and the boxes from Cairo, Egypt, piled up on the manuscript worktable and to take off the lids and begin to explore the Shirley Graham Du Bois papers," said Jane Knowles, acting director of the Schlesinger Library at Radcliffe. "We have many family collections and many African-American collections, but nothing to compare with this extraordinary, rich resource that will open avenues for scholarly research in American-Chinese relations, literary history, and music. Shirley Graham Du Bois will be in good company with our other great American women activists and writers from Harriet Beecher Stowe to Pauli Murray."
According to her son, David, Shirley Graham Du Bois was a prolific letter writer, and the collection now housed at the Schlesinger Library features her vast correspondence with other artists, world leaders, and family members, including letters to and from her husband, W.E.B. Du Bois.
David Du Bois said that the collection "reflects the various lives" lived by his mother – and it is the magnitude, range, and depth of Shirley Graham Du Bois' activities that her son believes will most surprise and delight scholars.
Knowles, who has already heard from one scholar interested in the collection, is looking forward to the day when it will become publicly accessible. "We wish we could wave a magic wand and open the collection immediately, but it will take months and considerable resources before the papers are organized, cataloged, and open for research," Knowles said.