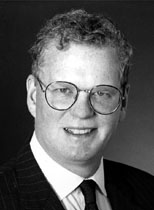 Thomas J. Healey, advisory director at Goldman, Sachs & Co., will move from the New York boardroom to a Cambridge classroom as he prepares to share what he's learned with students at the Center for Business and Government (CBG) at the Kennedy School of Government (KSG).
"I've lived it, now I'll be teaching it," said Healey, the former head of the U.S. institutional business development for the asset management division. Healey was hired in 1985 to create real estate capital markets.
Healey takes over Robert Glauber's "Financial Markets and Institutions" class. Glauber has assumed full-time responsibilities as chairman of the National Association of Securities Dealers (NASD).
"Bob Glauber's recent departure to chair the NASD left a huge void that is tough to fill," said Ira A. Jackson, director of CBG. "Bob combined rigorous scholarship with valuable and extensive experience in both business and government and a genuine love and knack for teaching. Tom Healey will bring to the classroom and to CBG similar perspective from his involvement in both the public and private sectors and equivalent enthusiasm for training future economic policy-makers." Glauber retains his affiliation with the school, as a nonresident senior fellow of CBG.
Healey will add his real-world experience to the curriculum. "I want to focus on current challenges through the perspective of risk and crisis," he said. "Not just the savings and loans crisis or the stock market crash in '87 but also: is the stock market overvalued today? If you're a policy-maker, you need to know how to see around the corner and deal with what may go wrong."
Healey has firsthand policy-making experience from his two years as assistant secretary of the Treasury for Domestic Finance under President Reagan. Now, with a new Republican president in the White House interested in redesigning the social security system, Healey will have his students tinker with the system using an Internet-based computer model.
Healey speaks and writes frequently on investment-related topics such as global pension fund management, the growth of defined contribution plans, and the application of quality management to the pension industry, real estate, alternative investments, soft dollars, and social security. Prior to his tenure at Goldman Sachs, he was head of corporate finance at Dean Witter Reynolds. Healey is a chartered financial analyst and a counselor of real estate. He is a graduate of Georgetown University and Harvard Business School. Healey joins CBG as a fellow and an adjunct lecturer on the faculty of KSG.