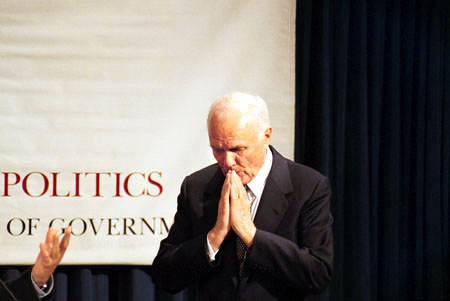 Exhibiting striking humility for a man often referred to as "a great American hero," former astronaut and U.S. Senator John Glenn modestly poked fun at himself and his image during an appearance at the ARCO Forum of Public Affairs at the Kennedy School of Government (KSG) on Tuesday night.
"I don't have the foggiest idea [what heroism means]," he told the standing room only audience. "The last thing I think about when I get up in the morning and pull my socks on is 'I'd better put my hero socks on today.'"
It was a humorous but telling line for the unassuming Ohio native who has spent six decades in public service – as a fighter pilot in two wars, an astronaut who has flown two historic missions into space (the second when he was 77 years old), and as a four-term U.S. senator representing his home state.
"Truly, he is the right stuff," said David Pryor, director of the Institute of Politics (IOP), during his introductory remarks.
But instead of focusing on his past glories, Glenn dedicated his speech to addressing the current flailing of math and science education in this country and the necessity for vast improvement in the years ahead.
"Other nations are now outperforming us in math and science in the kindergarten through 12th grade school system," Glenn explained, citing a recent study titled "Before It's Too Late," conducted by the National Commission on Mathematics and Science Teaching for the 21th Century which he chaired.
"We found that students in the United States ranked right near the top of the list up until the 4th grade. Then it drops off and by the time our kids get out of high school the averages show they are close to the bottom [of the list] in math and science."
Glenn pointed to a number of reasons for the poor U.S. performance in the two subjects, ranging from low teachers' salaries to a lack of federal oversight.
"Thirty percent of our math and science teachers leave [their jobs] within three years because the pay is so low. They can probably make more at Dell or Intel or America Online or one of these places which will pay them two or three times more," he said. "It's a real problem right now."
But low salaries aren't the only problem, according to Glenn.
"One fourth of our math teachers and 20 percent of our science teachers right now in high schools across the country are teaching out of field," he explained. "They never had a major or minor in that subject when they went to school themselves…. That's not the way you're going to get good math and science taught in our schools."
Glenn also blamed antiquated teaching techniques and the lack of a national education system for the mediocrity of math and science test scores in American schools.
"Lest we think this is just some emergency looming far off in the future let me put that idea to rest because I think the emergency is already here," Glenn stated emphatically. "We already lack the people necessary to fill many of our computer and high-tech jobs right now … and it's not getting any better."
Glenn also cited his growing concern with what he perceives as a rising level of apathy and cynicism toward government service and politics in this country.
"When the cynicism and apathy has gotten so thick and deep and imbedded as it is right now, I see it as a real hazard for the future of this country because democracy depends on people's participation," he stated emphatically. "If we don't have that, then we've really lost something that makes this country so different from other places around the world."
Referring to the U.S. Constitution as "the greatest document in governance ever put forward in human history," Glenn urged the Kennedy School audience to heed its message. "It doesn't mean a thing unless we are willing to have people at whatever level of government – federal, state, or local – who are truly interested in taking those words off paper and making them come true for every single person in this country.
"That's what politics is all about."