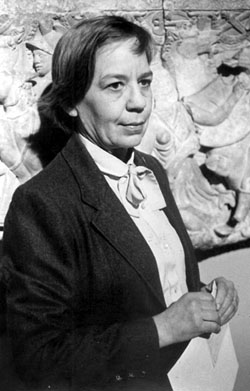 Emily Dickinson Townsend Vermeule, distinguished archaeologist, classicist, and art historian, died last Tuesday, Feb. 6 at her home in Cambridge, Mass. She was 72. Vermeule was professor emerita at Harvard University.
Born on Aug. 11, 1928, in New York City, Vermeule graduated from the Brearley School and received her B.A. summa cum laude in Greek and philosophy from Bryn Mawr in 1950; her M.A. in classical archaeology from Radcliffe in 1954; and her Ph.D. in Greek from Bryn Mawr in 1956. As a Fulbright Scholar in 1950, she attended the American School of Classical Studies in Athens, Greece; as a Catherwood Fellow three years later, she studied at Oxford University.
Her early interest in Greek poetry and philosophy expanded to include classical archeology. During her Fulbright year, she discovered a Mycenean family tomb, and she would become an expert in Mycenean culture, which flourished from 1580-1120 B.C. She conducted numerous other excavations in Greece, Turkey, Libya, and Cyprus, often in the company of her husband, archaeologist Cornelius Clarkson Vermeule III, whom she married in 1957, and who has served as the Curator of Classical Art at the Museum of Fine Arts in Boston.
Her teaching career spanned four decades and took her from Bryn Mawr to Wellesley to Boston University to Harvard. An instructor in Greek at Bryn Mawr and then Wellesley from 1956 to 1958, Vermeule became an assistant professor and then associate professor of classics at Boston University from 1958 to 1964. She returned to Wellesley as professor of art and Greek from 1965 to 1970. From 1970 until her retirement in 1994, Vermeule served as the Samuel Zemurray Jr. and Doris Zemurray-Stone Radcliffe Professor at Harvard, teaching in both the Classics and the History of Art and Architecture departments, and in the Core Curriculum.
Cynthia Shelmerdine, Ph.D. '77, recalls Vermeule as both a neighbor and a mentor. The Vermeule family lived across the street from Shelmerdine from the time she was a teenager in high school. Vermeule eventually became Shelmerdine's dissertation adviser at Harvard. Shelmerdine now chairs the classics department at the University of Texas, Austin, specializing in Mycenean culture.
"Smart, quick, wry – she had that kind of wry edge that could instantly see the humor in something, or the irony of something, and figure out a way to say it really fast," Shelmerdine says of Vermeule.
"And when she wrote a book about the Myceneans . . . she was always thinking that these were really people, and if you were living in that house, for instance, facing in that direction in the summertime, it would be really hot – a sense of the humanity of these people, that these were not just pieces of pottery in the ground."
Vermeule's stature in her field was established early and grew with the years. "Greece in the Bronze Age" (1964), her book on Mycenean culture, was immediately recognized as a masterful achievement in the field and has remained a staple of college course syllabi. Her other publications include "Aspects of Death in Early Greek Art and Poetry" (1979), which won the Philological Association's Charles J. Goodwin Award of Merit in 1980; "Toumba tou Skourou, the Mound of Darkness" (1974), the fruit of her several-year excavations of a Bronze Age site in Cyprus; "The Trojan War in Greek Art" (1964); and "Mycenaean Pictorial Vase Painting" (1982).
Named for her grandmother, a relative of poet Emily Dickinson, Vermeule also was a published poet whose work appeared in The New Yorker and Poetry Magazine.
Vermeule received numerous honors, including a Guggenheim fellowship and honorary degrees from Harvard, Smith College, Rutgers University, Wheaton College, Tufts University, the University of Pittsburgh, and other schools. She was a Fellow of the British Academy, a Fellow of the Society of Antiquaries in London, President of the American Philological Association, and Vice President of the American Philosophical Society. In 1982, the National Endowment for the Humanities named her the Jefferson Lecturer, the highest honor bestowed by the federal government for intellectual achievement in the humanities.
She is survived by her husband, Cornelius Vermeule; her son, Adrian Vermeule; and her daughter, Blake Vermeule. Memorial arrangements are being made.