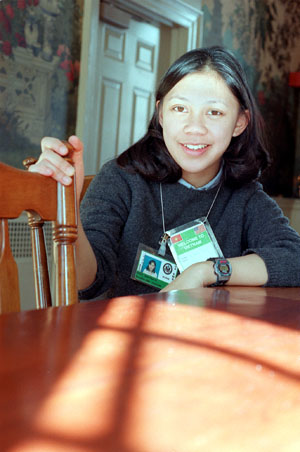 Minh-Chau Le has no recollection of the war. Born long after Saigon fell to the Communists in 1975, the 21-year-old Harvard senior's impressions of Vietnam are more contemporary – bustling open-air marketplaces, floating bridges, and fertile farmlands. To Le, Vietnam is a place not of bombs and destruction, but of opportunity.
Born and raised in the United States, Le knew little about her parents' homeland until accepting an internship with an economics school in Ho Chi Minh City two years ago. She returned last summer to work at the U.S. Embassy in Hanoi. Last fall Le made a third trip to Vietnam to help handle arrangements for President Clinton's historic visit in November.
"It was fantastic," Le says of the experience. "Being in the country and riding in the presidential motorcade and seeing the crowds eight-deep standing along the sides of the road just to wave at him. That was fun."
Le was also struck by the sight of the Vietnamese people waving American flags, the same flags that, only 30 years ago, had symbolized for many the horrors of war.
"They haven't forgotten [about the war]," Le explains. "They have forgiven. But they've also moved on. I feel like it's a nonissue for them now. They think that it's in the past and what they want now is a brighter future, a better future, and America is a part of that."
Similar sentiments inspired Le's mother and father, both just teenagers at the time, to flee Vietnam and head to the United States during the closing days of the war. Mother Thi Nguyen was flown out of the country into the Philippines just days before Saigon fell. Father Xuan Le, who had been working in the southern police force, was among the first "boat people" to reach the shores of Hong Kong. Both eventually settled in South Carolina, where they met at a grocery store the following year.
Neither Le's mother nor father has ever returned to their homeland, and both of them initially dissuaded Le from going.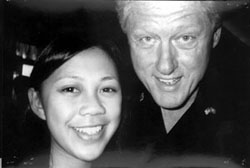 "At first, my parents didn't want me to go because it's not the same Vietnam," Le says. "And they wondered why I would want to go back to associate with the Communists … but they eventually realized this was a great opportunity for me. I would get to work with development economics, which is what I decided to focus on in school, and I would get to visit my grandparents, which would be a really great thing."
While working at the U.S. Embassy in Hanoi last summer, Le, who is concentrating in economics at Harvard and hopes to attend law school, developed a reputation as an engaged, intelligent, budding diplomat who could juggle several major assignments simultaneously while maintaining her sense of humor.
"Chau has all the qualities we treasure in Foreign Service officers, but she was also quite special, totally unique," says Paul Berg, political officer at the embassy. "She poured herself into the swirl of economic work from the first day, and her analyses of Vietnamese economic conditions were acute, yet she always was relaxed, joking, and low-key."
"I had a fantastic time," Le says. "It was three months of real intensity dealing with the Vietnamese government and the American government, handling the day-to-day things while also working on some big projects."
Last fall, when Le received an e-mail asking her to return for a week to assist with the president's trip, she wasn't surprised. "It helped that I spoke Vietnamese and that I knew the Embassy already and that I also knew the city," she says.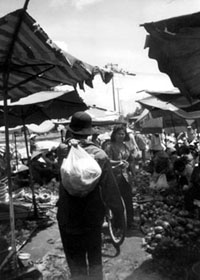 "Chau understands the human side of issues and of situations, which is why we begged her to come back and help with the president's visit," Berg explains. "Embassy officers on presidential visits must take responsibility for thousands of arrangements large and small, often arrangements that seem tiny and unimportant but [there's] hell to pay if they go awry."
Le arrived in Hanoi about a week before the presidential entourage.
"As soon as I arrived it was insane," she recalls. "They flew in helicopters and limos and decoy limos. There were so many people in the city – so many Americans when you count up the president's staff and his cabinet, plus all their staff and the media, and the special delegates who also came. It was amazing."
Le was paired with the acting Secretary of Veterans Affairs Hershel Gobel. "I would accompany him to meetings, make sure we knew where we were going, who he was meeting, what they were going to talk about, how to pronounce names, what to do, and what not to do … I was his right-hand 'lackey.'"
Le served, briefly, as Gobel's bartender.
"I remember at one point when he'd been having a really difficult day, he turned to me and said 'I'd really like some scotch.' I couldn't believe it. At first I was appalled, but then I figured it wasn't my place [to object]. So I went to the market and hopped out of the limo wearing my suit and carrying my cell phone. I walked up to a stall, pointed to a liquor bottle and said 'I need that.' It was quite funny."
For the most part, however, Le says her experience shuttling Gobel and the other delegates around Vietnam was all business, with little time for pleasure.
"I remember there were two days when I didn't eat, except for breakfast," she recalls. "It was intense. It was fast. Everything happened immediately, and it was exhausting, but it was a huge rush, a big thrill, and I did get the opportunity to meet the president. He was very nice."
The president received a warm welcome wherever he went, Le recalls, especially among the young. "I think that in general the people there really want to open up and engage with the rest of the world economically, socially, and culturally," she says. Clinton's visit, she believes, may be a first step in fostering that international exchange.
"I do think his visit was largely symbolic in the sense that I don't think the Communist party is going to make any major policy changes [immediately]," she states. "But I do think that future visits will make things easier. A lot of the red tape is going to be gone. A lot of the paranoia is going to be gone. The glow from this visit will affect the next few visits, and establishing diplomatic ties will be much easier."
Would Le like to return to Vietnam herself?
"Definitely," she says. "I would love to go back. It can be frustrating, but at the same time you can see the potential. It's a doable challenge, and I feel like it's doable within my lifetime."