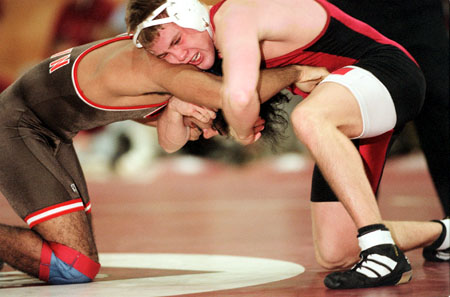 Staff photos by Rose Lincoln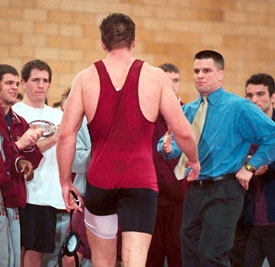 The Harvard University wrestling team (9-4) captured its first Ivy League Championship in school history, defeating Brown University (10-9) 30-7 this past Saturday, Feb. 17, at a dual meet held at Boston University. After a 25-11 loss against Penn earlier this month, the Crimson grapplers bounced back with a 37-6 win over Princeton.
Since that Feb. 4 win, the Crimson squad has gone on to sweep the remainder of its Ivy League opponents, drubbing Columbia 50-0 and defeating Cornell 28-13 – Harvard's first win over the Big Red since 1984. Claiming 24 pins along the way, coach Jay Weiss' team has a combined 241-45-point edge over their last seven opponents.
"I am extremely proud of this team, especially how it is coming together at this point in the season," Weiss said. "The team is very excited to finally capture that elusive title."
With a trip to Iowa for the NCAA Championships on the line, the team heads to the Eastern Intercollegiate Wrestling Association tournament at the University of Pennsylvania on March 3-4.