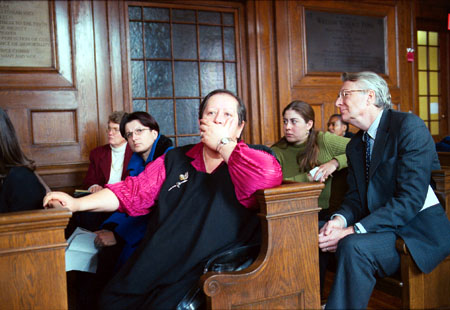 United by their differences, a group of Bosnian women from the torn nation's various ethnic groups spent last week at Harvard, talking about their pasts, sharing their visions of the future, and building coalitions to make that future happen.
The 10 women, representing Muslim, Catholic, Orthodox Christian, Jewish, and mixed-ethnic communities, were at Harvard through the Women Waging Peace initiative of the John F. Kennedy School of Government's Women and Public Policy Program.
They left Harvard Sunday with a renewed hope for the future of their country – officially called Bosnia and Herzegovina – and a plan to bring the hope to fruition. The first part of that plan will go into effect some time in March, with a conference in Sarajevo.
The conference will reunite the 10 who visited Harvard and bring in 50 more influential women from across Bosnian society to discuss steps toward a peaceful future.
"The whole point was to make a strong group so when we go back to Bosnia, we'll be able to work together," said Tijana Vignjevic, who is of Muslim and Orthodox Christian heritage and is studying classical conducting at the Sarajevo Music Academy. "In these few days, we met so many people who are so positive about things and so willing to help. They are not Bosnian and they're so willing to help, we ought to be willing to do something ourselves."
Bosnia today is a nation where peace is enforced by thousands of foreign troops, stationed there as part of the United Nations' peacekeeping force. The country is divided into two main parts: a Muslim-Croat Federation and a Serbian Republic. The country is led by a three-person presidency, representing each of the three major groups: Serb, Croat, and Muslim.
This uneasy framework has brought peace to the tiny Balkan country, but few – including the 10 Bosnian women who visited Harvard – believe the work there is done.
Their weeklong stay featured daily discussion sessions, where the women shared their personal experiences and feelings about the war. The sessions were very uncharacteristic of the normally stoic Bosnian culture, according to Sanja Spaic, a daughter of a mixed Muslim-Serbian marriage who returned to Bosnia last spring after graduating from the University of California, Los Angeles.
"We Balkans are very different from Americans, we're not used to sitting in a circle and talking about our feelings," Spaic said. "That, I think, was a very good session."
One of the things they discovered about each other was that sometimes the truths they held about the war were uncertain, according to Swanee Hunt, director of the Women and Public Policy Program.
"They've heard widely varying accounts of what's gone on in the last eight or nine years, sometimes 180 degrees different. Sometimes [they've heard] the exact same crimes with a different perpetrator. It's amazing, the manipulation of the media," Hunt said.
In addition to sharing their stories with each other, the women spoke to several different audiences, including the Kennedy School, Tufts University's Fletcher School of Law and Diplomacy, and Harvard Divinity School.
At the Divinity School, they discussed the effectiveness – or ineffectiveness – of a council of multi-religious leaders in bringing the different communities together and the need for prosecution of war criminals in order for Bosnia to put the past behind and move forward.
Vildana Selimbegovic, editor in chief of the magazine DANI, gave the audience an idea of just how difficult the past may be to forget. She responded to a question about rape by telling the story of a woman she had interviewed who had been held in an apartment and systematically raped – in front of her 4-year-old son – for two and a half months. Selimbegovic herself is a war widow. Her husband was killed while serving in the Bosnian army.
Hunt described the week as "a real roller coaster" where the women shared very personal feelings and views and then pulled back and looked at issues from an analytical standpoint.
Toward the end of the week, the group met with officials from the U.S. State Department, who talked with them about possible policies and how to use their coalition as a vehicle for peace.
"The challenges of the week for these women have been enormous," Hunt said.