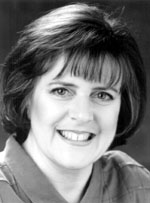 Author Kathleen Norris will give the 2000-01 William Belden Noble Lectures on Feb. 26, 27, and 28 at 8 p.m. in Memorial Church. The lectures are free and open to the public. Norris will also preach on Sunday, Feb. 25 at 11 a.m. Her sermon is titled "It Is Good for Us To Be Here."
Norris was born in Washington, D.C., and attended Bennington College in Vermont before working for the Academy of American Poets in New York. A poet and writer, she is the author of the best sellers "The Cloister Walk" and "Amazing Grace: A Vocabulary of Faith." She describes herself as a Presbyterian Benedictine, and has been an oblate at a Benedictine Monastery in North Dakota for 10 years. Her personal narratives, essays, and poetry have been published in a wide range of anthologies, magazines, and journals.
"Many people had suggested Norris as a potential Noble lecturer, and I was impressed by her book on the psalms," said the Rev. Peter J. Gomes, Plummer Professor of Christian Morals. "I thought she would shed a thoughtful, spiritual light on our worldly enterprise here. She will bring a meditative and reflective spirit to the lectures."
On Monday, Feb. 26, Norris will speak on "The Essential Sin of Sloth." "We tend to dismiss sloth as mere laziness, and wonder why it is considered one of the Seven Deadly Sins," Norris said. "The answer lies in its history: originally conceived as one of the 'Eight Bad Thoughts' that tempted monks, sloth eventually merged with the more deadly acedia (which literally means 'lack of care'). And although the term acedia is not in common usage, the sin is very much with us."
The Tuesday, Feb. 27, lecture is titled "Carnival: A Feast of Language" in honor of Mardi Gras celebrations. Norris will give a poetry reading, which she hopes will be an immersion in the pleasures of language from the 17th century to the present day with words that seek to reveal truths and enhance our enjoyment of life. The poetry performance will be followed by a Mardi Gras reception with music provided by Harvey Cox and his band, The Embraceables.
The lecture on Wednesday, Feb. 28, is titled "A Theology of Lent," and will explore Lent as a countercultural stance in a society that insists that happiness can be bought and sold. Norris will examine the meaning of "the Good Life."
The lectures will be responded to by Mark S. Burrows, Liam Rector, and Robert J. Kiely.
Mark S. Burrows is professor of the history of Christianity at Andover Newton Theological School. A historian of the medieval and early modern Church, his work focuses on mystical texts, monastic literature, and the poetry of Dante. Burrows is a poet and an ordained minister of the United Church of Christ.
Liam Rector is a well-known poet, director of the graduate writing seminars at Bennington College, and professor of poetry at Emerson College. His books of poetry include "The Sorrow of Architecture" and "American Prodigal." He is the editor of "The Day I Was Older: On the Poetry of Donald Hall."
Robert J. Kiely is the Loker Professor of English at Harvard University. He is the author of "Reverse Tradition: Post-Modernism and the 19th Century Novel." He is the editor of "The Good Heart: A Buddhist Perspective on the Teachings of Jesus by His Holiness The Dalai Lama" and has written a spiritual memoir titled "Still Learning: Spiritual Sketches From a Professor's Life."
The Noble Lectures were founded in 1898 through a bequest of Nannie Yulee Noble in memory of her husband.