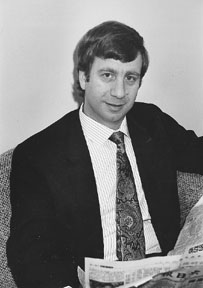 Last month, William P. Alford, the Henry L. Stimson Professor of Law and director of East Asian Legal Studies at Harvard Law School, was the guest of President and Mrs. Clinton at a White House dinner honoring the Special Olympics. Alford was invited in recognition of his work on behalf of the Special Olympics in China.
Alford, who holds honorary professorships at Remnin University in Beijing and Zhejiang University in Hangzou, traveled to China in May with Special Olympics Chairman Sargent Shriver, Special Olympics President Dr. Timothy Shriver, and actor Arnold Schwarzenegger to promote educational programs for China's mentally retarded. Through meetings with China's top leaders, national broadcasts, and exhibitions, the group's efforts were designed to assist the Chinese Special Olympics.
On the same day as the White House dinner, Alford joined former U.S. Ambassadors to China James Lilly and Stapleton Roy in speaking to some of the U.S. government's top China specialists about China's current situation, and changes that might be expected in the next four years.
Earlier in December, Alford was the keynote speaker at the 50th anniversary celebration of the People's Republic of China's first law school. The event, attended by the President of the Supreme People's Court and the head of China's legislature, culminated in a ceremony at the Great Hall of the People.
Approximately 150 university presidents, deans, and law professors from around the world were also in attendance.