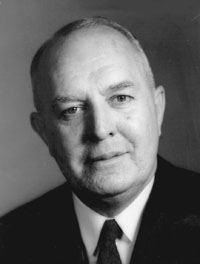 Thomas Kennedy, long a renowned professor and authority on labor relations at Harvard Business School (HBS) as well as a highly respected arbitrator in disputes between unions and management, died on Wednesday, Dec. 27, 2000, at a retirement community in Kennett Square, Pa. He was 88 years old.
A member of the HBS faculty from 1956 to 1978, where he was for many years the Albert J. Weatherhead, Jr. Professor of Business Administration, Kennedy established a sterling reputation as a teacher. Besides writing numerous case studies, he recalled in a 1987 interview, "I did my best to keep the classroom such an interesting place that everyone was eager to learn."
In 1971, Kennedy received the Business School's Salgo Award for teaching.
"The classroom was a calling for Tom Kennedy," Dean Kim B. Clark commented. "He had a passion for what he did, and he dedicated his life to helping students develop their ideas and make sound judgments based on rigorous thinking. … No one who took one of Tom's classes could ever forget him."
In 1988, Harvard Business School honored Kennedy with its highest accolade, the Distinguished Service Award for "extraordinary service that has resulted in a marked increased in the ability of the School to perform its mission" to train leaders.
After retiring from the Business School at 66, Kennedy became a full-time visiting professor at Babson College in Wellesley. In his final year of teaching there in 1985, students established the Thomas Kennedy Outstanding Teacher Award in his honor.
Maynard Thomas Kennedy was born in Altoona, Pa., in 1912. As a young man he loved walking in the mountains around Altoona, and he enjoyed canoeing on the Juniata River. Later he shared his love of the outdoors with his family, camping and hiking in the Adirondacks and canoeing on the Concord River in Massachusetts.
Kennedy received a bachelor's degree in economics from Swarthmore College in 1934. Two years later, after working for the Society of Friends, he pursued a master's degree in economics at the University of Pennsylvania.
Graduating in 1937 and recently married, Kennedy accepted an appointment at Muhlenberg College in Allentown, Pa. His success in that position intensified his interest in an academic career and led him to return to the University of Pennsylvania in 1940 to teach and begin work on a Ph.D., which he earned in 1947.
In 1950, he became director of Industrial and Public Relations at the Atlas Chemical Co. in Wilmington, Del., where, among other duties, he was responsible for negotiating all labor contracts with 12 different unions. As successful as Kennedy was in the workplace, however, he came to realize that his heart belonged to teaching – a decision that finally brought him to Harvard Business School.
Kennedy is survived by his wife of more than 60 years, the former Ruth Corbin; a daughter, Patricia K. Ascher, of Sausalito, Calif.; a son, Thomas C., of Topeka, Kan.; five grandchildren; and one great-grandchild. Burial will be private. A memorial service will be held in Pennsylvania in the spring.
Donations in Kennedy's memory can be sent to the American Friends Service Committee, c/o Ms. Jeanie Moses, 1501 Cherry St., Philadelphia, Pa., 19102.