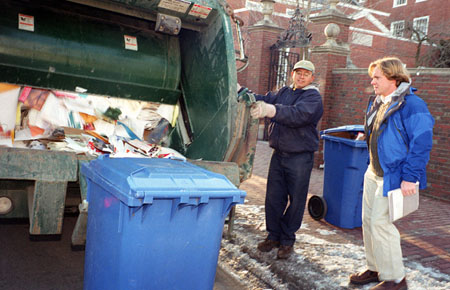 Scott Sandberg knew that folks at the Radcliffe Institute for Advanced Study were finally on board for his recycling program last March when they threw him a surprise 30th birthday party. The cake had "Happy Anniversary" written on it.
The cake wasn't the only recycled item at the party. Sandberg also received a Christmas card with "Happy Birthday" written on it, and he got back a gift he had originally given.
Sandberg sees it all as good fun in the name of a higher purpose: recycling and reducing the enormous amount of waste we all generate.
Under Sandberg's tutelage, Radcliffe has become a shining example of what can be done with a little determination. In the year and a half since Sandberg, a facilities assistant at Radcliffe, took over the recycling program, the recycling rate has risen from 25 percent to 72 percent, earning the Institute an award for "Environmentally Desirable Practices" from the city of Cambridge in May 2000.
"Radcliffe is a great model for the University," said Robert Gogan, waste manager for Harvard Facilities Maintenance Operations. "Scott Sandberg gets a green star."
Radcliffe's 72 percent recycling rate compares with a University-wide rate of 28 percent in 2000. That is up 4 percent from 1999 and is a dramatic improvement from 1990's 1 percent. Even so, it still pales to what's been going on at Radcliffe.
While Gogan said the increased University-wide recycling rate is encouraging, he was disappointed that efforts to reduce the overall amount of waste at Harvard have not yet stemmed the tide. The University generated 13,255 tons of waste in 2000, up 22 percent from 10,865 in 1999.
"We're recovering more than ever for recycling," Gogan said. "On the down side, we are generating more trash."
Though recycling at Harvard is not new, state mandates adopted in the early 1990s banned disposal of items such as paper, bottles, cans and computers. Those mandates forced Harvard — and every other trash generator — to recycle them.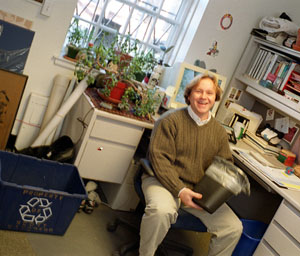 Gogan attributed the rapid increase in the amount of trash at Harvard to an increase in students, faculty, and staff and to the recent building boom that generates not just construction debris, but which also prompts purchases of new furniture, fixtures, and equipment.
Besides new ways to generate waste, Harvard staff is finding new ways to recycle it. Harvard Dining Services has replaced a number of its old garbage disposals with new units, affectionately called "pigs," that grind up and centrifuge out food waste and then reuse the cleaned water.
The centrifuged particles are then composted by an off-site contractor, greatly cutting down on the volume of kitchen waste sent to the Deer Island sewage treatment plant. Alex McNitt, Dining Services' assistant director of marketing and communications, said the new systems will put Harvard ahead of expected state and local recycling requirements. Future mandates are expected to ban disposal of food and construction waste, according to Gogan.
"Right now it's extra," McNitt said. "We anticipate that some day the city or the combined metro area will request it and then require it of all food service operations."
For now, the food composting operations are aimed at saving money, McNitt said. The city charges Harvard different rates for water the University takes in and for wastewater it sends out. The "pigs" will help cut down that higher-cost wastewater, McNitt said.
The Biology Labs have a somewhat different problem from most office buildings: how to get rid of all the bedding for research mice in the labs there. Leo Takacs, assistant building superintendent, said the mouse bedding, made up of chopped up corncobs, is collected and combined with organic material picked up from Dining Services for composting.
Though the amount of waste generated at the University is rising, Gogan said a positive trend is that the annual amount generated per person has fallen from 800 pounds in 1989 to 600 pounds today.
"In an ideal world that would be zero, you would either reduce or recycle everything," Gogan said. "There are places like Radcliffe where they go a long ways toward that."
Though Radcliffe might prove a recycling model for the rest of the University, Sandberg admits the changes at Radcliffe haven't been easy. The battle there, though, hasn't been one of technology or even money. It's been a fight to convince those who work and live at Radcliffe that recycling is important.
Sandberg's done that in a couple of ways, starting by developing an education packet and traveling from desk to desk explaining how to recycle and reduce waste.
Once the education was done, he removed their trash cans.
"One night I took away everyone's garbage cans and replaced them with a 14-quart recycling barrel and a small side can for trash," Sandberg said. "If you have a large trash can, you're going to fill that trash can."
Sandberg confesses the change was slow at first. In fact, he reports getting 35 pieces of hate e-mail right at the beginning. But he stuck with it, instructing the evening cleaning crews to keep an eye on what was getting thrown out.
If recyclables are winding up in the trash, Sandberg will drop a recycling "tip sheet" on the person's desk. If it continues, he'll tell the cleaning crews not to pick up that person's trash.
Eventually they'll call to complain – and get Sandberg.
"We stop picking up the trash until they call me, then I'll talk to them," Sandberg said. "It took us several months to see a significant change, but it's been going up and up."
Sandberg says another key to the program is making it convenient for everyone to use. In addition to the recycling bins for paper at everyone's desk, bins for other recyclables, such as bottles and cans, are located nearby.
"You can't have three different bins under everyone's desk," Sandberg said. "(But) you're never more than 20 feet away from a recycling bin at Radcliffe."
Keene Metzger, Radcliffe's Dean for administration, credited Sandberg's personality with much of the program's success. Sandberg, Metzger said, combines determination with a sense of humor. The combination enables him to push people a bit without seeming overbearing.
"Honestly, a couple of years ago, when Scott started this we sort of rolled our eyes," Metzger said. "Just through the force of his good humor, he's brought us all along."
Today Radcliffe recycles many things. Furniture and used clothing are sent to charities. The Cronkhite dining room and three of the five dormitory kitchens on campus compost food waste. Computer and electronic equipment, as well as batteries, are collected and shipped off to be recycled.
But Sandberg is convinced the heart of the recycling program lies at the desks of those working there, where bottles, cans, and reams of paper go from supply closet to the desk to the trash.
"Recycling begins and ends at the desk," Sandberg said. "That's where the education and persistence pays off in getting people to think of recycling as part of their job responsibility."
Though Radcliffe sets the pace for Harvard in recycling, Sandberg is not satisfied. He recently received approval to develop a green catering program, that would first ask and later require caterers for Radcliffe events to take steps such as using washable dishes and composting food waste. In addition, he plans to develop a program to purchase environmentally friendly copy paper and office supplies.
For a recycling program to work, Sandberg said, it can't be just something on the side, it has to be central to each department's operations. After a while, Sandberg said, the cost savings alone will begin driving the program.
"The goal is to have waste reduction, recycling on the top of everyone's agenda," Sandberg said.
Contact Alvin Powell at alvin_powell@harvard.edu